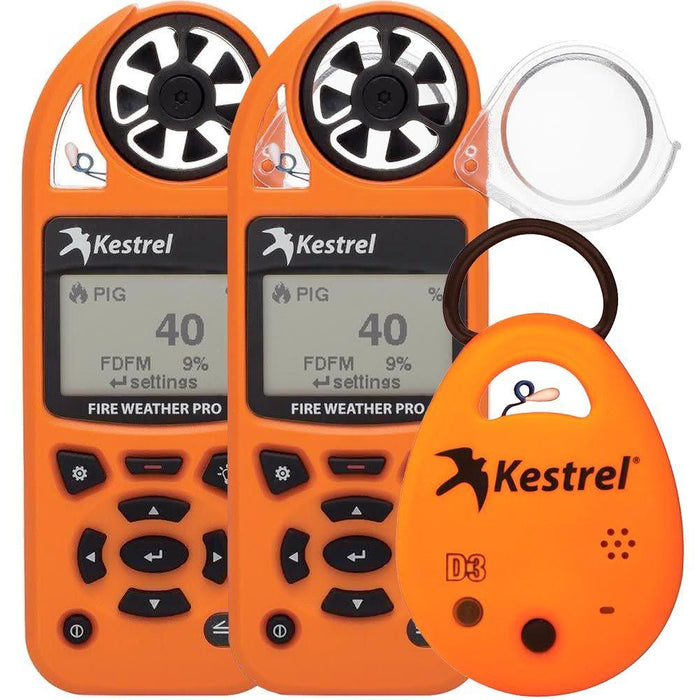 Kestrel Fire Weather Chief Pro Bundle Kit
Original price
$799.00 USD
-
Original price
$799.00 USD
$799.00 USD
-
$799.00 USD
Current price
$799.00 USD
Free 2 Day Delivery in the USA. Ships within 24 hours. Ships Worldwide.
Availability:
Only 2 left!
Includes:

(2) Kestrel 5500FW Fire Weather Pro Meters with LiNK
(1) DROP D3FW data logger
Downloads / Specifications:
Warranty:

5 year manufacturers warranty.
Fire Chief Pro Kit contains two (2) Kestrel 5500FW Fire Weather Meters Pro with LiNK and one (1) DROP D3FW Datalogger.
13% savings if buying individually!
The 5500FW meter is an all-in-one hand-held belt weather kit replacement, containing every critical weather measurement including PIG and FDFM. The DROP D3FW data logger can be left onsite for continuous recording of conditions and trends which can then be viewed on a mobile device and shared via email. Measure, log, track trends and expand capabilities with this kit on the free Kestrel LiNK App.
Kestrel 5500FW Fire Weather Meter Pro with LiNK (Bluetooth)
The fast and easy tool for taking weather observations, the Kestrel 5500FW Fire Weather Meter Pro provides NIST-traceable accuracy, reliability and usability when it matters most. Measure every environmental condition plus PIG and FDFM and view trends with on-screen data graphing. Drop-proof, dust-proof, waterproof and able to withstand extreme environments without damage, your Kestrel Fire Weather meter can stand up to the abuses of work on a fire line wherever you're assigned. Measures wind speed (anemometer) and direction, temperature (thermometer), humidity (hygrometer), water vapor content of the atmosphere (psychrometer), plus 10 other meteorological parameters.
Read more about the Kestrel 5500FW Fire Weather Meter PRO with LiNK
Note: Kestrel 5 Series Vane Mounts are not included with this kit
Kestrel DROP D3FW Bluetooth Datalogger
Each Kestrel Fire Weather DROP measures just 1 x 1.8 x 2.4 inches (24 x 46 mm x 60 mm) and weighs just 1.2 ounces (34 grams). DROP loggers meet military and international standards for water, dust and shock resistance (IP-67 and MIL-STD-810G) and are conveniently equipped with a sturdy D-ring for hanging wherever needed. The DROP D3FW measures: Dew Point Temperature, Heat Stress Index, Pressure Trend, Relative Humidity, Station Pressure (Absolute Pressure), Temperature, Wet Bulb Temperature. Read more about the Kestrel DROP D3FW Datalogger.
Read more about the Kestrel DROP D3FW Datalogger