By

Aquamira
Aquamira WaterBasics Gravity Flow Filter Kit
Regular price
Sale price
$19.95 USD
Unit price
per
Couldn't load pickup availability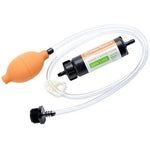 Regular price
Sale price
$19.95 USD
The power of gravity enables the WaterBasics Gravity Flow Filtration Kit to produce safe, clean drinking water for you and your family.
You have important things to do, and pushing or pulling on a pump is probably not one of them. A few squeezes of the primer bulb starts the process of gravity "pulling" the water through the filter. The weight of the water provides the potential energy to convert contaminated water to GRN Line protected water without breaking a sweat.
With the WaterBasics Gravity Flow Filtration Kit, all you need is two standard water containers to set up a gravity powered filtration system. The Kit includes WaterBasics GRN Line Emergency Filter with the convenience of Series II connectivity to easily connect to most standard water storage containers including jugs and carboys. Simply screw the GRN Line Filter directly into the threaded cap of the clean container , then connect the feed tube to the unfiltered water container. Place the unfiltered container higher than the clean container, give a few squeezes on the primer bulb to start the water flow, and then sit back and let Newton do all the work for you. In about the same time as it takes to make lemonade and kick your feet up, you can have a gallon of filtered water with GRN Line Protection from chemicals, bacteria, and protozoan cysts. You can depend on WaterBasics.
WaterBasics GRN Line Protection is achieved using Electro-Positive Absorption Technology. Charged micro-glass fibers "pull" organisms as small as bacteria, out of the water stream while still maintaining high flow rates and low pressure drops making WaterBasics Series II GRN Line Emergency Filters the perfect choice for gravity flow applications. WaterBasics Series II GRN Line Emergency Filters have been thoroughly tested by independent laboratories and are proven to consistently remove bacteria and protozoan cysts to ANSI/NSF Standard 53 and US EPA standards, without the use of disinfecting chemicals such as chlorine, bromine, or iodine. The addition of sub-micron carbon particles into the filter media increases the absorptive capability required to reduce chlorine and harmful chemicals, bad tastes, and odors. WaterBasics Series II GRN Line Emergency Filters provide superior biological protection, high flows, and long service life in a compact, lightweight, and easy to use cartridge.
Designed with a purpose, the WaterBasics Series II Emergency Filter included in the kit connects easily to any WaterBasics water bottle, to standard water storage containers, and the unique WaterBasics pump. Fewer fittings mean one filter is all you need to protect you and your family without worrying "if it will fit."
Features
GRN Line Biological Protection
Accepts any WaterBasic Series II Emergency Filter
Filters up to 80 gallons
Gravity does the work
Made in the USA
USA:
Sales Tax:
We collect sales tax on orders shipping to Pennsylvania only.
Free Ground Shipping: 
Enjoy free shipping within the USA (1-4 business days ETA). Most orders ship the same day if ordered by 12:00PM ET.
Free 2 Day Delivery (USA Only):
Spend $250 and you have the option to select free 2 day delivery. Free 2 Day delivery is only available in the continental USA. We mostly use UPS for this service so if your address is a PO box or anywhere UPS does not deliver to we cannot guarantee 2 day delivery.
Other Shipping Services
We offer discounted expedited shipping such as Next Day Air, 2nd Day Air and more. All shipping services, times and rates are displayed during checkout.
Global (worldwide) Shipping
We offer the following international shipping services: (UPS, USPS & DHL). Not all shipping services are offered to every country. If they are offered to your country, it will be displayed in your cart and checkout.
We ship worldwide with few exceptions. Our discounted shipping rates and services are displayed in your cart and during checkout.
Tracking: All shipments include a tracking number and shipment progress updates either by email or text updates.
All International shipments are insured.
In order to protect our customers, we do insure all international shipments against loss or damage. You can rest assured that if something happens to your shipment during its journey, we have you covered. It is extremely rare that we have a lost or damage shipment. We have been shipping worldwide for over 15 years. All paperwork is professionally produced and all packages are secure. We are unable to offer insurance to the Ukraine at this time due to the war.
Recipients of international shipments may be subject to import taxes, fees, and customs duties (hereafter, "Import Fees"), levied by the customs office and or delivery service of your shipping destination. Import Fees vary according to the customs regulations of the destination country.You may be notified by the delivery service to pay these fees (if any are due), either by email or phone. It is important to respond quickly.
We are always available to assist our customers when needed!
Delivery Guarantees:
We do our best and pride ourselves on getting your order to you in a timely fasion which means we ship out when we say we will. That being said most delivery services are not guaranteeing delivery dates at this time (see below).
Due to the COVID outbreak, and during major gift giving holidays there has been and will be some disruption of delivery services. Please check with the delivery service you choose to transport your package for any notices if delivery time is critical. 
100% Satisfaction Guaranteed
We stand behind every product we sell. If you are not satisfied with your purchase or have a problem with your item, just send us an email within 40 days of purchase and we will email you a prepaid return label. All you will need are your ExtremeMeters.com order number and we will email the return label within 24 hours to the email address used when placing the order.
ExtremeMeters.com guarantee doesn't cover ordinary wear and tear or damage caused by improper use or accidents.
If your item has a manufacturing defect in its materials or workmanship (extremely rare), you can return it to us at any time. If sent within 45 days, we will replace or refund. If after 45 days and up to 5 years, it will become a warranty issue.
Once the item(s) are returned to us, it usually takes 24 hours to process refunds.
We do not ship on the following holidays observed in the USA.
New Year's Day
Memorial Day
Independence Day
Labor Day
Thanksgiving Day
Christmas Day
Returns:
Submit a return request:
Within 45 days of your items ship date, click the profile icon in the store's navigation, log in and then request a return.
Here is how:
Log in to your account: In the

 

Email

 

field, enter your email address, and then click

 

Continue.
In your email account, open the email sent from our store and copy the six-digit verification code included in the email.
Go back to the online store, and then enter a six-digit verification code.
Click the order that you want to submit the return for.
If your order has more than one item, then select the items that you want to return.
Select a return reason and add a note for the store.
Click

 

Request return. If your return request is approved and requires shipping, then you receive an email with shipping instructions and a return shipping label. After the product is returned, you receive a refund.
Choosing a selection results in a full page refresh.