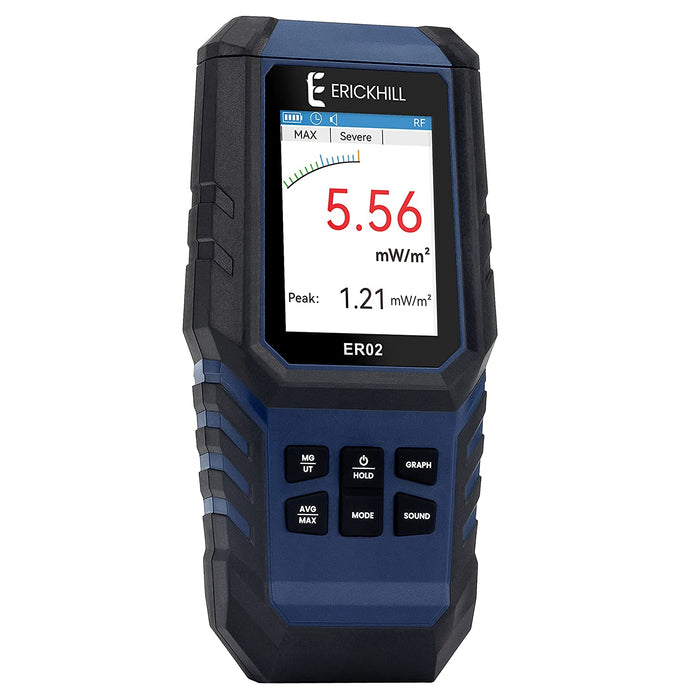 ERICKHILL 3 in 1 EMF Meter - Rechargeable
Original price
$81.99 USD
Original price
$81.99 USD
-
Original price
$81.99 USD
Original price
$81.99 USD
Free Shipping. Ships within 24 hours. Ships Worldwide.
Availability:
Only 2 left!
Shipping / Returns / Taxes:

All items ship for free in the USA. Spend $250 USD for free worldwide shipping! Shipping rates and services are available on the cart page. Estimated delivery dates will be displayed during checkout. 

International orders may be subject to customs fees / taxes / duties and additional delivery fees prior to or at time of delivery. Please check with your country's customs office to determine if you are responsible for paying these fees.

State Sales Tax (USA): We collect sales tax on shipments to Pennsylvania customers only.

We offer a 45 day no-hassle return policy. Free returns are available in the USA only.
Providing greater clarity, the large LCD screen enables accurate readings featuring an adjustable backlight.
Additionally, Peak Hold captures fast pulses for measuring digital signals and the sensitive RF mode measures signals from cellular phones, Wi-Fi EMF.  Note that frequency information is not displayed.
Features:

The ERICKHILL EMF Meter is a 3-in-1 multifunctional device capable of measuring electric field (EF), magnetic field (MF), and radio frequency field (RF). Through a built-in electromagnetic radiation sensor, this meter processes and displays radiation values on a LCD screen, enabling users to make informed decisions for processing or prevention of potential radiation exposure.
RF function can detect 5G signal and radio frequencies up to 10Ghz, while EF and MF functions can measure electromagnetic radiation such as that emitted by TVs, induction cookers, rice cookers, refrigerators, computers, and wiring.
This essential device is an ideal choice for those pursuing paranormal investigations, as well as office workers, expecting mothers and seniors who need to monitor electric radiation for well-being.
Readings can be stored in the form of an Average, Peak, and Maximum Value. The LCD display is large and backlit, providing clear data interpretation. After 15 minutes of inactivity, the device will automatically shut-off. Color modes can also be switched to black and white. An audible or visible warning will be given if readings are outside of the safe zone.
The EMF Meter includes 1 * charging cable and 1 * User manual; After-sale service for 36 months and lifetime technical assistance are also provided. Should an issue arise, Erickhill's knowledgeable customer service team is available to answer your inquiries and resolve the matter promptly.


EMF EXPOSURE LIMITS
Many different EMF exposure limit standards have been published. Below is a table of some of the published national and international standards. There are many variables that determine the basis of these standards, including: EMF frequency, length of exposure, and affected body part(s). One thing to note is that the IEEE and most Western European limits are based on the thermal impact of EMF on the human body, whereas the Russian and Eastern European limits focus more on dose over extended exposure periods.