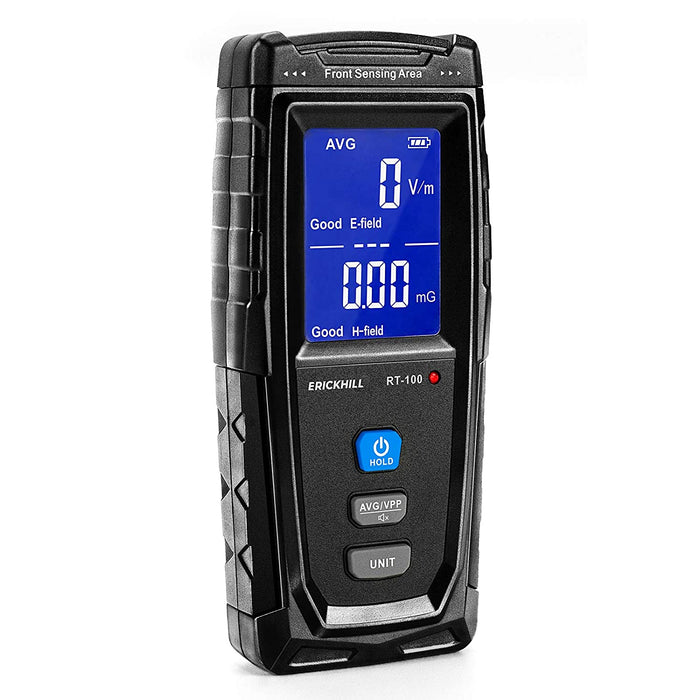 ERICKHILL Hand-held Rechargeable Digital LCD EMF Detector
Sold out
Original price
$41.95 USD
Original price
$41.95 USD
-
Original price
$41.95 USD
Original price
$41.95 USD
Free Delivery in the USA. Ships within 24 hours. Ships Worldwide.
Availability:
Out of stock
Shipping / Returns / Taxes:

All items ship for free in the USA. Spend $250 USD for free worldwide shipping! Shipping rates and services are available on the cart page. Estimated delivery dates will be displayed during checkout. 

International orders may be subject to customs fees / taxes / duties and additional delivery fees prior to or at time of delivery. Please check with your country's customs office to determine if you are responsible for paying these fees.

State Sales Tax (USA): We collect sales tax on shipments to Pennsylvania customers only.

We offer a 45 day no-hassle return policy. Free returns are available in the USA only.
ERICKHILL EMF Meter, Rechargeable Digital Electromagnetic Field Radiation Detector Hand-held Digital LCD EMF Detector, Great EMF Detector for Home EMF Inspections, Office, Outdoor and Ghost Hunting.
Simple to use
Easily operate with one hand and perform field measurements; the device automatically shuts down after 5 minutes of non-use.
Widely used
Ideal for assessing a range of household electronics--including microwaves, TVs, hairdryers, computers, and low-frequency devices--as well as wiring.
ELECTROMAGNETIC SENSING: Featuring a built-in electromagnetic radiation sensor, the device offers clear LCD digital readouts after the control microchip processes the data. This EMF meter measures magnetic field radiation in mG/µT and electric field in V/m, but cannot detect RF measurements.
Once the readings surpass the threshold of 0.4µT (4mG) or 40V/m, the display will switch to red and the light will begin to blink, simultaneously accompanied by an audible alert. The option to mute the buzzer is available for those seeking to assess quieter environments without disruption.

This multifunction device offers a readout of average as well as peak (maximum) value, with the option to preserve the data for later review. The large LCD with backlight provides easy readability, and it is set with an auto-power off feature after 5 minutes of inactivity.

Compatible for a broad range of applications, such as testing TVs, computers, printers, microwaves, refrigerators, cellular antennas, and lower-frequency household items, as well as paranormal investigation.

ERICKHILL is dedicated to crafting professional, high-quality meters with a 36-month after-sale service and lifetime technical support. Our knowledgeable after-sales team will promptly address any inquiries.
Specifications
Electric field:
Range: 1V/m-1999V/m
Alarm threshold: >40V/m
Resolution: 1V/m
Magnetic field:
Range: 0.01μT-99.99μT / 0.1 mG - 999.99 mG
Alarm threshold: >0.4μT / 4mG
Resolution: 0.01μT / 0.1 mG