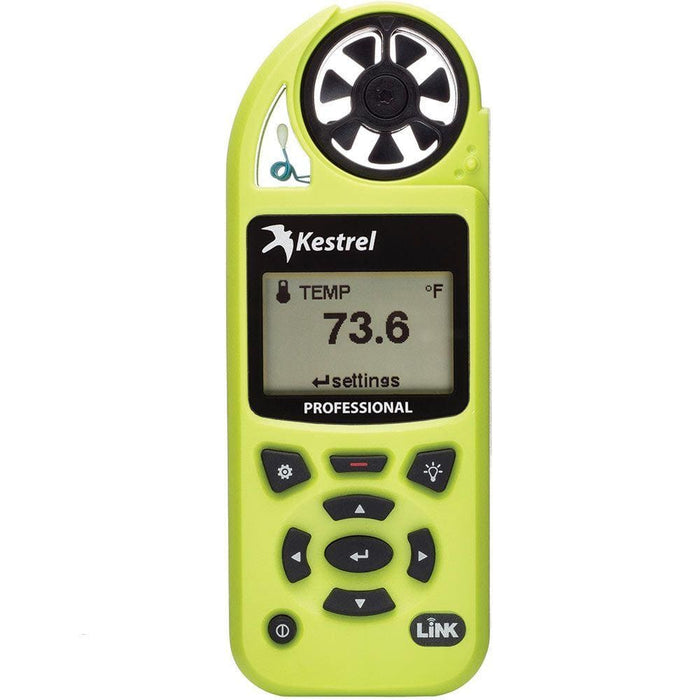 Kestrel 5200 Professional Environmental Meter
Original price
$315.00 USD
-
Original price
$385.00 USD
Original price
$315.00 USD
$269.00 USD
-
$329.00 USD
Current price
$269.00 USD
Free 2 Day Delivery in the USA. Ships within 24 hours. Ships Worldwide.
Availability:
Only 15 left!
Availability:
Only 13 left!
Measures:
Air Flow (CFM)
Wind Speed
Current Wind Speed
Average Wind Speed
Maximum Wind Gust
Temperature
Barometric Pressure
Pressure Trend
Relative Humidity
Altitude (Barometric)
Dew Point Temperature
Wet Bulb Temperature (Psychrometric)
Wind Chill
Heat Stress Index
Density Altitude
Air Density
Relative Air Density
Volume Air Flow
Delta-T
Evaporation Rate
Humidity Ratio (Grains)
Bluetooth (LiNK model)
Includes:

(1) AAA Lithium Battery
Instructions
Protective Draw String Pouch
Lanyard
Certificate Of Conformity (Spec Sheet)
Downloads / Specifications:
Warranty:

5 year manufacturers warranty.
Shipping / Returns / Taxes:

All items ship for free in the USA. Spend $250 USD for free worldwide shipping! Shipping rates and services are available on the cart page. Estimated delivery dates will be displayed during checkout.

International orders may be subject to customs fees / taxes / duties and additional delivery fees prior to or at time of delivery. Please check with your country's customs office to determine if you are responsible for paying these fees.

State Sales Tax (USA): We collect sales tax on shipments to Pennsylvania customers only.

We offer a 45 day no-hassle return policy. Free returns are available in the USA only.
We collect state sales tax on shipments to Pennsylvania only.
Pouring concrete, balancing HVAC systems, or monitoring job site conditions? Let the Kestrel 5200 takes the calculations and guesswork out of your job with integrated specialty calculations.
The Kestrel 5200 offers advanced calculators and readings that are unique in the portable meter market and are designed to make your job easier. In addition to measuring current environmental conditions, the Kestrel 5200 tracks and logs over 10,000 sets of time-stamped data. Your data log can be transferred to a mobile device wirelessly with the LiNK wireless communication option and Kestrel LiNK app, or to a PC/MAC with either the accessory Kestrel LiNK Dongle or waterproof USB Data Transfer Cable (available separately).
Construction
The Kestrel 5200 has the American Concrete Institute Evaporation Rate nomograph built in, and displays the Evaporation Rate right on screen with no calculation or error-prone interpolation. With that information in hand, decisions about additives to the mix or curing adjustments can be made, prevent costly plastic shrinkage cracks of the slab. Plus, the Kestrel 5200 allows you to monitor wind-loading on booms and cranes, and even track the heat index on your work site to keep your workers safe.
HVAC
Volume air flow couldn't get any easier than this. Simply input the duct shape and dimensions and traverse the Kestrel 5200 across the duct. You'll get instantaneous and average volume air flow without the need for any geometry or calculations. readings that greatly assist in commissioning and performance balancing HVAC systems. While not a replacement for a balometer, the Kestrel 5200 is far less expensive and can save you time and money. The Kestrel 5200 also offers every commonly-used measurement of moisture content in air, making life easy to determine dehumidification needs.
LiNK (Bluetooth)
The 5200 with LiNK Bluetooth Connectivity, gives you the option to transfer data wirelessly to an iOS (iPhone, iPad) device or Android smartphone or tablet when within range using the appropriate app (See Below). Also with the 5200 with LiNK Meter, you can transfer data wirelessly to a Windows or Mac computer using the optional Kestrel Bluetooth USB Dongle.
Features:
Lightweight, portable and simple set-up - can be used wherever readings are needed at the jobsite
Automatic Evaporation Rate Calculation based on ACI nomograph – no more charts or inaccurate guesswork
Comprehensive data-logging and extensive storage capabilities – document all job conditions to demonstrate compliance with protocol and protect against litigation
LiNK Wireless Bluetooth® Technology – view current and logged data and share job reports with the free Kestrel LiNK app on your mobile device
LiNK App Alerts – receive customizable alerts on a mobile device when changing weather conditions could pose a problem
Backlight - Switchable White/Red
Data Log Graph View
Drop-Tested to MIL-STD-810G
Integrated Flip Open Impeller Cover
LiNK Wireless Communication to Mobile Devices (Bluetooth low energy)*
Pressure Sensor
Temperature Sensor (Patented External Isolated)
Battery Life Indicator
Date & Time
Floats
Intuitive Tactile Up/Down/Enter Keypad
Minimum/Maximum/Average Reading
Relative Humidity Sensor
Waterproof to IP67 (3'/1M for 30 minutes)
Physical Dimensions:
Dimensions: 5.0 x 1.8 x 1.1 in. / 12.7 x 4.5 x 2.8 cm
Weight: 3.6 Ounces / 102 Grams
MFG Part#

0852HVG

, Model# 5200
MFG Part#

0852LHVG

, Model# 5200 with LiNK
Who's using the Kestrel 5200?
Construction and Concrete Pouring
Facilities Management
HVAC & Air Conditioning Balancing
Remediation