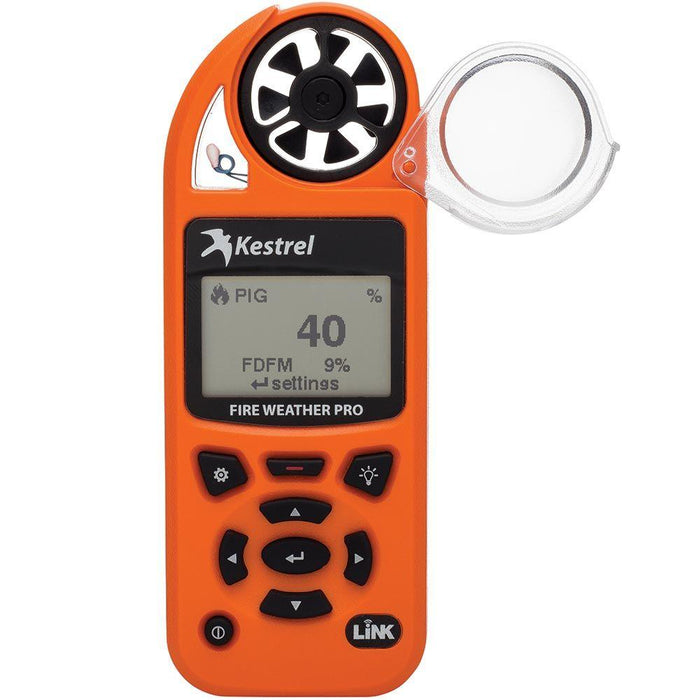 Kestrel 5500FW Fire Weather Meter Pro
The all-in-one hand-held belt weather kit replacement.
Original price
$375.00 USD
-
Original price
$444.00 USD
Original price
$375.00 USD
$329.00 USD
-
$439.00 USD
Current price
$329.00 USD
Measures:
Wind Speed
Current Wind Speed
Average Wind Speed
Maximum Wind Gust
Temperature
Barometric Pressure
Relative Humidity
Wind Chill
Heat Stress Index
Dew Point Temperature
Density Altitude
Altitude (Barometric)
Wet Bulb Temperature (Psychrometric)
Wind Direction
Fine Dead Fuel Moisture (FDFM)
Probability of Ignition (PIG)
Pressure Trend
Bluetooth (LiNK model)
Includes:

(1) AAA Lithium Battery
Instructions
Lanyard
Protective Draw String Pouch
Certificate Of Conformity (Spec Sheet)
Padded carry case that holds vane mount & meter (Optional, see listing)
Rotating Vane Mount for Tripod (Optional, see listing)
Downloads / Specifications:
Warranty:

5 year manufacturers warranty.
The all-in-one hand-held belt weather kit replacement, including every critical weather measurement, PIG and FDFM.
Measure, log, track trends and expand capabilities with free Kestrel LiNK App.
The fast and easy tool for taking weather observations The Kestrel 5500 Fire Weather Meter Pro provides NIST-traceable accuracy, reliability and usability when it matters most. Measure every environmental condition plus PIG and FDFM and view trends with on-screen data graphing. Drop-proof, dust-proof, waterproof and able to withstand extreme environments without damage, your Kestrel Fire Weather meter can stand up to the abuses of work on a fire line wherever you're assigned. A variety of carry pouch options makes it even easier to take your Kestrel Fire Weather meter with you. The Kestrel 5500 Fire Weather Meter Pro offers a large, high-resolution and contrast display and highly readable numerals. The Kestrel 5500 also includes a built-in dual color backlight, extra-strong polycarbonate lens and single AA battery operation. In addition to measuring the current environmental conditions, the Kestrel 5500 FWM tracks and logs over 10,000 sets of time-stamped data, providing a complete history of conditions on the fire from the moment you arrive. With optional LiNK wireless connectivity, your data log can be transferred to a Kestrel LiNK app (available on Android) for easy export and email to an FBAN or meteorologist. Data can also be downloaded to a PC with either the accessory Kestrel LiNK Dongle or waterproof USB Data Transfer Cable (Both sold separately).
Features:
Measures wind speed and direction, temperature, humidity, barometric pressure and altitude.
14 total meteorological parameters measured, calculated and displayed real-time and stored in memory for monitoring trends.
Probability of Ignition (PIG) and Fine Dead Fuel Moisture (FDFM) built-in for readings with no reference tables needed.
Quick and consistently accurate measurements reduce the risk of human error possible with manual weather kits.
Large, hi-res, hi-contrast, graphic display is perfectly readable in the brightest sunlight and is backlit for nighttime use.
Optional LiNK connectivity powered by Bluetooth® low energy provides wireless communication to mobile devices and computers for in-depth analysis, export and easy communication to FBANs and other crews.
Clip into the Kestrel Rotating Vane Mount to make the world's most portable weather station (included with Pro model).
Rugged (drop tested to MIL-STD-810G standards), waterproof (sealed to IP67 standards) and floats.
Protective pouch, neck lanyard and Lithium AA battery included.
5-year warranty.
Kestrel Physical Dimensions:
Dimensions: 5.0 x 1.8 x 1.1 in. / 12.7 x 4.5 x 2.8 cm
Weight: 3.6 Ounces / 102 Grams
MFG Part#

0855FWORA

, Model# 5500FW
MFG Part#

0855FWLORA

, Model# 5500FW with LiNK & Vane Mount