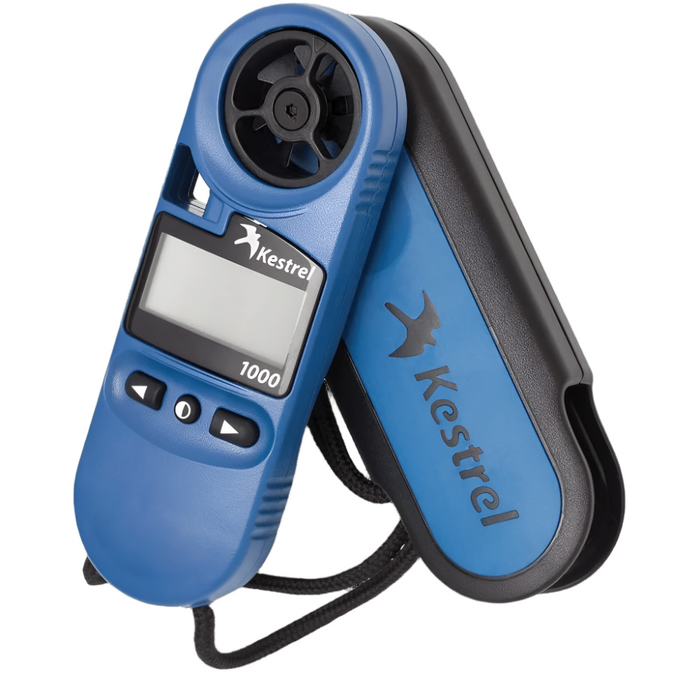 Kestrel 1000 Pocket Wind Speed Meter
Original price
$99.00 USD
Original price
$99.00 USD
-
Original price
$99.00 USD
Original price
$99.00 USD
Free Shipping in the USA. Ships within 24 hours. Ships Worldwide.
Measures:
Wind Speed
Current Wind Speed
Average Wind Speed
Maximum Wind Gust
Includes:

(1) CR2032 Lithium Battery
Instructions
Lanyard
Certificate Of Conformity (Spec Sheet)
Protective Cover - Hard Slip-on
Downloads / Specifications:
Warranty:

5 year manufacturers warranty.
Shipping / Returns / Taxes:

All items ship for free in the USA. Spend $250 USD for free worldwide shipping! Shipping rates and services are available on the cart page. Estimated delivery dates will be displayed during checkout.

International orders may be subject to customs fees / taxes / duties and additional delivery fees prior to or at time of delivery. Please check with your country's customs office to determine if you are responsible for paying these fees.

State Sales Tax (USA): We collect sales tax on shipments to Pennsylvania customers only.

We offer a 45 day no-hassle return policy. Free returns are available in the USA only.
With just three buttons to operate, the Kestrel 1000 handheld wind meter can easily be switched between mph, km/h, ft/min, m/s, knots and Beaufort.
If you are looking for an easy to use handheld wind speed meter (anemometer) that is durable, waterproof, floats and is accurate, look no further than the Kestrel 1000. Designed and built in the USA, the Kestrel 1000 is the preferred handheld anemometer from crane operators to kite boarders. Like all of our Kestrel Instruments, they are made in the USA, extremely durable and backed by a full 5 year factory warranty. All Kestrel Instruments are waterproof, drop-proof and they float.
I appreciated receiving the Kestrel 1000 in 2-3 days so that important measurements could be made in a narrow time window of opportunity. The unit worked well and quantitatively showed that there was a problem with room ventilation which we subsequently diagnosed. Having good air velocity data to back up conclusions was important in convincing others.
Extreme Meters customer: William H.
Features:
Simple 3-Button Control
High Contrast, Sunlight Readable Monochrome LCD Display
CR2032 Coin Cell Battery (Average Life 300 Hours)
Data Hold Function
Drop-Tested to MIL-STD-810G
Waterproof to IP67 (3'/1M for 30 minutes)
Kestrel Certificate of Conformity
Neck Lanyard
Patented Impeller and Sensor Technology
Slip-On Protective Cover
User-Replaceable Battery
Waterproof & Floats
Designed and built in the USA
Physical Dimensions:
Weight: 2.3 Ounces / 65 Grams
Size: 4.8 x 1.7 x 0.7 in. / 122 x 42 x 18 mm