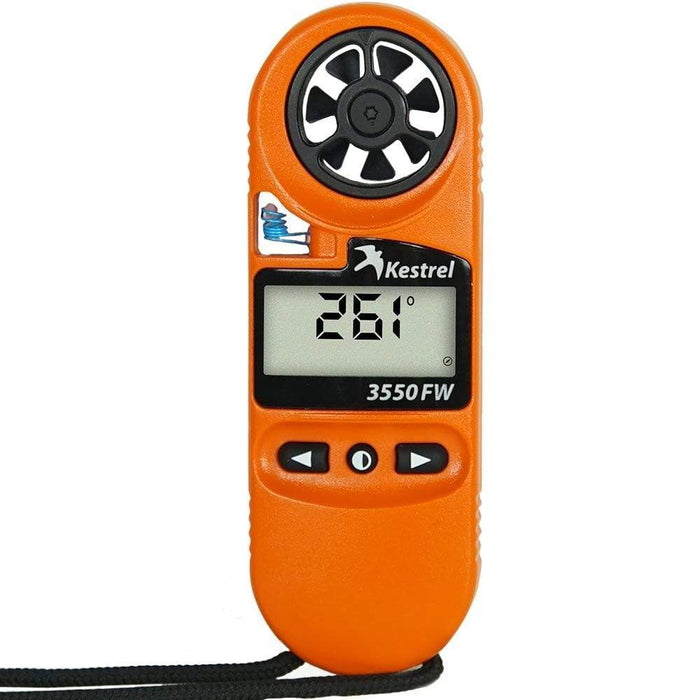 Kestrel 3550FW Pocket Fire Weather Meter with Bluetooth
Original price
$289.00 USD
Original price
$289.00 USD
-
Original price
$289.00 USD
Original price
$289.00 USD
Current price
$229.00 USD
$229.00 USD
-
$229.00 USD
Current price
$229.00 USD
Free Shipping in the USA. Ships within 24 hours. Ships Worldwide.
Measures:
Wind Speed
Average Wind Speed
Maximum Wind Gust
Current Wind Speed
Temperature
Barometric Pressure
Relative Humidity
Wind Chill
Heat Stress Index
Dew Point Temperature
Pressure Trend
Altitude (Barometric)
Wet Bulb Temperature (Psychrometric)
Wind Direction
Bluetooth
Includes:

(2) CR2032 Lithium Batteries
Instructions
Lanyard
Certificate Of Conformity (Spec Sheet)
Protective Cover - Hard Slip-on
Downloads / Specifications:
Warranty:

5 year manufacturers warranty.
Shipping / Returns / Taxes:

All items ship for free in the USA. Spend $250 USD for free worldwide shipping! Shipping rates and services are available on the cart page. Estimated delivery dates will be displayed during checkout.

International orders may be subject to customs fees / taxes / duties and additional delivery fees prior to or at time of delivery. Please check with your country's customs office to determine if you are responsible for paying these fees.

State Sales Tax (USA): We collect sales tax on shipments to Pennsylvania customers only.

We offer a 45 day no-hassle return policy. Free returns are available in the USA only.
Fire Weather Meters have never been easier to use or more capable.
The Kestrel 3550FW is much like the benchmark Kestrel 3000, but with a digital compass for wind direction, LiNK Bluetooth wireless communication and even more features.
Bluetooth connectivity
With its Compass and Bluetooth connectivity, the Kestrel 3550FW Fire Weather Meter will allow you to take your environmental readings on your meter and transfer the readings instantaneously to your mobile device using the free Kestrel app.
Once the data is stored in the Kestrel app, you can share your information using your mobile device. Send via email to a colleague or review stored data in-app. Also included is a spare Kestrel battery!
Easily share and send detailed weather reports with GPS location via text and email with the free Kestrel app.
Fighting wildfires and protecting lives, property and communities demands accurate weather monitoring and the ability to quickly share data to maximize crew safety and deploy resources. The Kestrel 3550FW paired with the free Kestrel app puts powerful tools for monitoring, logging, and sending important weather information for making the most informed decisions for fire management strategy.
Pocket sized, rugged, waterproof, affordable, easy-to-use and equipped with data logging capabilities and wireless data retrieval for monitoring and reporting, the Kestrel 3550FW is your trusted weather guide for fire management and safety.
Comprehensive Monitoring
Consistently accurate measurements of barometric pressure, altitude, dew point, heat stress index, relative humidity, temperature, wind speed and direction, wind chill, temperature and wet bulb readings.
Capture Real-Time Data
Easily view, and record data in real-time on a mobile device with the free Kestrel app.
Send Detailed Reports
Export and send detailed weather reports with GPS location via text or email for vital fire weather data management.
Reference Cards
Includes an easy-to-read Probability of Ignition (PIG) and Fine Dead Fuel Moisture (FDFM) reference card.
The new 3550FW meter has Bluetooth connectivity to pair with the Kestrel app for the ability to wirelessly view, share, and export weather data from a mobile device. Download the Kestrel app from the app store to take advantage of the all the features available.
Features:
Bluetooth Wireless Connectivity
Simple 3-Button Control
High Contrast, Sunlight Readable Monochrome LCD Display
Backlight (Blue white)
Temperature Sensor (Patented External Isolated)
CR2032 Coin Cell Battery (Average Life 300 Hours)
Data Hold Function
Drop-Tested to MIL-STD-810G
Waterproof to IP67 (3'/1M for 30 minutes)
Kestrel Certificate of Conformity
Neck Lanyard
Patented Impeller and Sensor Technology
Slip-On Protective Cover
Time of Day
User-Replaceable Battery

Waterproof & Floats



Designed and built in the USA
Waterproof PIG Reference Card
Free Spare Battery
Physical Specifications:
Dimensions: 4.8 x 1.7 x 0.7 in. / 122 x 42 x 18 mm
Weight: 2.3 Ounces / 65 Grams
MFG Part# 0835FWLCORA, Model# 3550FW (Orange)