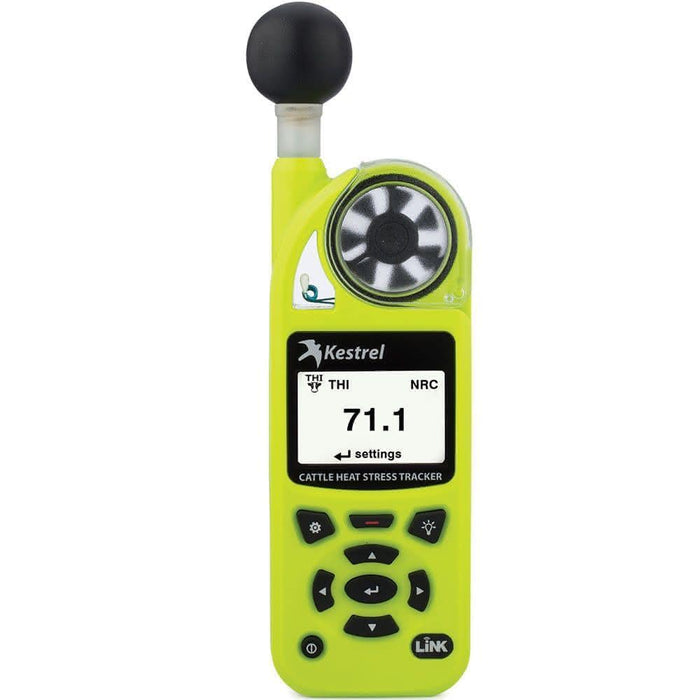 Kestrel 5400AG Livestock Heat Stress Tracker with LiNK + Vane Mount
Original price
$819.00 USD
Original price
$819.00 USD
-
Original price
$819.00 USD
Original price
$819.00 USD
Current price
$699.00 USD
$699.00 USD
-
$699.00 USD
Current price
$699.00 USD
Free 2 Day Delivery in the USA. Ships within 24 hours. Ships Worldwide.
Measures:
Wind Speed
Current Wind Speed
Average Wind Speed
Maximum Wind Gust
Temperature
Barometric Pressure
Delta-T
Density Altitude
Dew Point Temperature
Globe Temperature
Accumulated Heat Load Units (AHLU)
Heat Load Index (HLI)
Heat Stress Index
Naturally Aspirated Wet Bulb Temperature
Relative Humidity
Temperature-Humidity Index (THI)
WBGT (Wet Bulb Globe Temperature)
Wet Bulb Temperature (Psychrometric)
Wind Chill
Wind Direction
Pressure Trend
Includes:

(1) AAA Lithium Battery
Instructions
Protective Draw String Pouch
Lanyard
Certificate Of Conformity (Spec Sheet)
Downloads / Specifications:
Warranty:

5 year manufacturers warranty.
Shipping / Returns / Taxes:

All items ship for free in the USA. Spend $250 USD for free worldwide shipping! Shipping rates and services are available on the cart page. Estimated delivery dates will be displayed during checkout.

International orders may be subject to customs fees / taxes / duties and additional delivery fees prior to or at time of delivery. Please check with your country's customs office to determine if you are responsible for paying these fees.

State Sales Tax (USA): We collect sales tax on shipments to Pennsylvania customers only.

We offer a 45 day no-hassle return policy. Free returns are available in the USA only.
Don't let cattle heat stress reduce your herd performance and cost you money.
Implement an effective management plan based on objective and accurate THI, HLI and AHLU measurements at the pen level with Kestrel. Rugged hand-held meter can also be mounted with included hardware for longer term monitoring of heat events.
Kestrel 5400AG Cattle Heat Stress Tracker with LiNK + Vane Mount Overview
The Kestrel 5400 Cattle Heat Stress Tracker offers micro-climate measurement and monitoring at the pen or yard location. Contains a built-in Globe Temperature sensor and complete cattle-specific calculations. Measure THI and HLI and track AHLU based on easy-to-input herd and pen parameters. Perform spot checks or mount in place with the included vane mount accessory to track AHLU for months.  LiNK capability allows remote access to current and logged data from your iOS or Android mobile device. Mount a mobile data equipped tablet nearby to send mobile alerts even when you're not on-site. Designed by Kestrel with input from some of the world's most respected experts in cattle heat stress, the Kestrel 5400 Cattle Heat Stress Tracker is designed to help you MEASURE and MANAGE your herd's heat stress, ensuring you MAXIMIZE your bottom line.
Features:

Heat Load Index (HLI), Temperature-Humidity Index (THI), Accumulated Heat Load Units (AHLU), Wet Bulb Globe Temperature (WBGT), heat index, Delta T, temperature, humidity and much more. 21 measurements in all!
Complete weather station capabilities with a comprehensive suite of weather measurements including wind speed, direction, pressure trend, temperature and humidity.
Durable, portable, and easy to use data logger with customizable category settings, graphing and measurement statistics.
Large, hi-res, hi-contrast, graphic display is perfectly readable in the brightest sunlight and is backlit for use in low-light conditions.
LiNK connectivity powered by Bluetooth LE® provides wireless communication to mobile devices and computers.
Rugged (drop tested to MIL-STD-810G standards), dust and waterproof (sealed to IP67 standards).
Included Kestrel Vane Mount easily attaches to fencing.
Protective pouch, neck lanyard and Lithium AA battery included.
5-year warranty.
Kestrel 5400AG Specifications and Dimensions:
Dimensions: 6.4 x 1.8 x 1.1 in. / 16.25 x 4.5 x 2.8 cm

Weight: 4.7 Ounces / 133.2 Grams
MFG Part#

0854AGLVCHVG

, Model# 5400AG Livestock Heat Stress Tracker with LiNK & Vane Mount (HiViz Green)