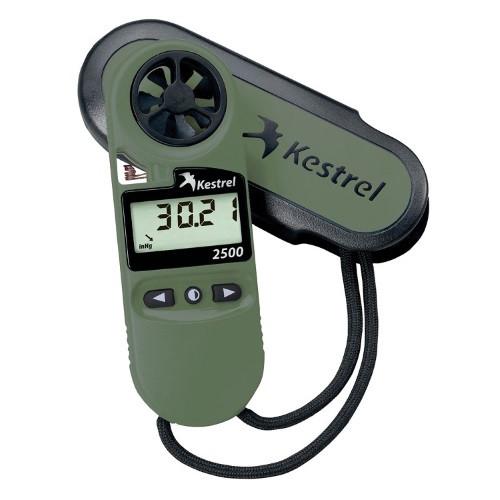 Kestrel 2500NV Pocket Weather Meter
Original price
$199.00 USD
Original price
$199.00 USD
-
Original price
$199.00 USD
Original price
$199.00 USD
Current price
$154.00 USD
$154.00 USD
-
$154.00 USD
Current price
$154.00 USD
Free Shipping in the USA. Ships within 24 hours. Ships Worldwide.
Measures:
Wind Speed
Current Wind Speed
Average Wind Speed
Maximum Wind Gust
Temperature
Barometric Pressure
Wind Chill
Altitude (Barometric)
Pressure Trend
Includes:

(1) CR2032 Lithium Battery
Instructions
Lanyard
Certificate Of Conformity (Spec Sheet)
Protective Cover - Hard Slip-on
Downloads / Specifications:
Warranty:

5 year manufacturers warranty.
With it's night vision preserving backlight, the 2500NV pocket weather meter is a great companion to have during day and night time excursions 
Predict fish and wildlife activity as well as when bad weather is headed your way with the three-hour pressure trend indicator. With its easy-to-use digital pressure altimeter, you have the perfect instrument for any outdoor activity - get conditions in seconds right in the palm of your hand. In addition to predicting weather activity, barometric pressure also influences a bullet's trajectory, which is why the Kestrel 2500NV is used by shooters and hunters when accuracy is important.
Night Vision Preserving Backlight
The Kestrel 2500NV in Olive Drab with NV has a night-vision preserving backlight which helps users to sustain natural night vision. The NV's backlight incorporates an optical filter to reduce overall brightness and minimize blue and green spectrum light to preserve night vision. Additionally, NV backlights are also much dimmer than a standard backlight, making it more difficult to detect with the naked eye in night operations. This backlight appears soft greyish pink, not red, and is still in the visible spectrum, so it is not compatible with night-vision equipment. It takes 30 to 45 minutes for the average eye to adapt to darkness and maximize night vision. Even a short burst of white, yellow, green or blue light "bleaches out" the rod cell photo-receptors in the eye and causes night blindness until the entire adaptation process can take place again. Light in the red spectrum does not cause this "bleaching out", preventing night blindness and night vision fatigue.

Features:
Simple 3-Button Control
High Contrast, Sunlight Readable Monochrome LCD Display
Backlight: Night Vision Preserving

Temperature Sensor (Patented External Isolated)
CR2032 Coin Cell Battery (Average Life 300 Hours)
Data Hold Function
Drop-Tested to MIL-STD-810G
Waterproof to IP67 (3'/1M for 30 minutes)
Kestrel Certificate of Conformity
Neck Lanyard
Patented Impeller and Sensor Technology
Slip-On Protective Cover
Time of Day
User-Replaceable Battery

Waterproof & Floats



Designed and built in the USA
Kestrel 2500NV Specifications and Dimensions
Dimensions: 4.8 x 1.7 x 0.7 in. / 122 x 42 x 18 mm
Weight: 2.3 Ounces / 65 Grams
MFG Part# 0825NV, Model# 2500NV (Olive Drab)