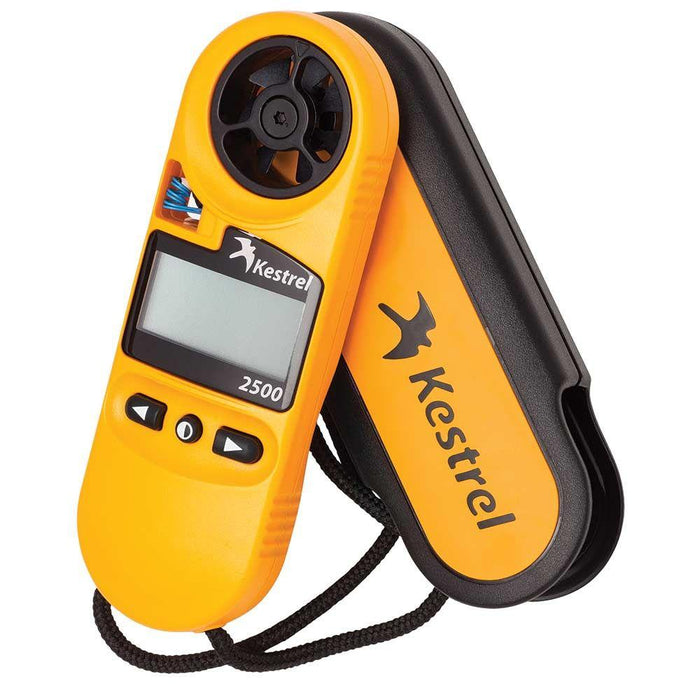 Kestrel 2500 Pocket Weather Meter
Original price
$199.00 USD
Original price
$199.00 USD
-
Original price
$199.00 USD
Original price
$199.00 USD
Current price
$159.00 USD
$159.00 USD
-
$159.00 USD
Current price
$159.00 USD
Free Shipping in the USA. Ships within 24 hours. Ships Worldwide.
Measures:
Wind Speed
Current Wind Speed
Average Wind Speed
Maximum Wind Gust
Temperature
Wind Chill
Barometric Pressure
Altitude (Barometric)
Pressure Trend
Includes:

(1) CR2032 Lithium Battery
Instructions
Lanyard
Certificate Of Conformity (Spec Sheet)
Protective Cover - Hard Slip-on
Downloads / Specifications:
Warranty:

5 year manufacturers warranty.
Nature can turn on you at a moment's notice.
Predict fish and wildlife activity as well as when bad weather is headed your way with the three-hour pressure trend indicator. With its easy-to-use digital pressure altimeter, you have the perfect instrument for any outdoor activity - get conditions in seconds right in the palm of your hand.
In addition to predicting weather activity, barometric pressure also influences a bullet's trajectory, which is why the Kestrel 2500 is used by hunters when accuracy is important.
Available Orange (2500) with a standard backlight or in Olive Drab (2500NV) with Night Vision Preserving Backlight: The Kestrel 2500NV in Olive Drab with night-vision preserving backlight helps users to sustain natural night vision.
Features:
Simple 3-Button Control
High Contrast, Sunlight Readable Monochrome LCD Display
Backlight: Blue white

Temperature Sensor (Patented External Isolated)
CR2032 Coin Cell Battery (Average Life 300 Hours)
Data Hold Function
Drop-Tested to MIL-STD-810G
Waterproof to IP67 (3'/1M for 30 minutes)
Kestrel Certificate of Conformity
Neck Lanyard
Patented Impeller and Sensor Technology
Slip-On Protective Cover
Time of Day
User-Replaceable Battery

Waterproof & Floats



Designed and built in the USA
Kestrel 2500 / 2500NV Specifications and Dimensions
Dimensions: 4.8 x 1.7 x 0.7 in. / 122 x 42 x 18 mm
Weight: 2.3 Ounces / 65 Grams
MFG Part# 0825, Model# 2500 (Orange)

MFG Part# 0825NV, Model# 2500NV (Olive Drab)