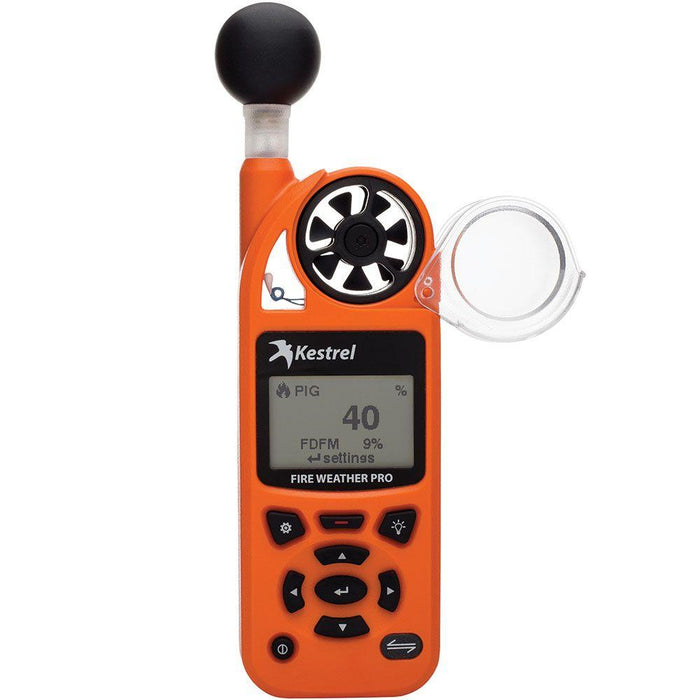 Kestrel 5400FW Fire Weather Meter Pro
Your complete Handheld Fire Weather Station and WBGT Heat Safety Meter
Original price
$715.00 USD
Original price
$715.00 USD
-
Original price
$715.00 USD
Original price
$715.00 USD
Current price
$629.00 USD
$629.00 USD
-
$629.00 USD
Current price
$629.00 USD
Measures:
Wind Speed
Current Wind Speed
Average Wind Speed
Maximum Wind Gust
Temperature
Barometric Pressure
Relative Humidity
Wind Chill
Heat Stress Index
Density Altitude
Dew Point Temperature
Wind Direction
Naturally Aspirated Wet Bulb Temperature
Globe Temperature
Wet Bulb Temperature (Psychrometric)
WBGT (Wet Bulb Globe Temperature)
Does not require distilled water
Thermal Work Limit (TWL)
Probability of Ignition (PIG)
Fine Dead Fuel Moisture (FDFM)
Pressure Trend
Bluetooth (LiNK model)
Includes:

(1) AAA Lithium Battery
Padded Carry Case (Holds Vane Mount & Meter)
Rotating Vane Mount for Tripod
Lanyard
Heat Stress Reference Card (Waterproof)
Instructions
Certificate Of Conformity (Spec Sheet)
Downloads / Specifications:
Warranty:

5 year manufacturers warranty.
Your complete Handheld Fire Weather Station and WBGT Heat Safety Meter in one.
Measures Wet Bulb Globe Temperature (WBGT), Probability of Ignition (PIG), Fine Dead Fuel Moisture (FDFM), temperature, barometric pressure, humidity and much more. 20 measurements in all!
Wildland firefighters train to withstand the challenge of heavy exertion in extreme conditions. Extreme heat is a constant companion, and protective gear exacerbates the physical strain on a firefighter's body. Building heat acclimatization is a critical component of training, but doing so without incurring heat illness or injury is equally critical and challenging. Heat injury is a constant danger with many incidents of heat related illness occurring every year. Heat illness prevention programs recommend measuring Wet Bulb Globe Temperature (WBGT) and implementing ACGIH work/recovery and hydration guidelines. WBGT is a much more complete measure of heat stress for the firefighter because it includes the effects of the radiant heat of the sun, fire, or hot surfaces. The Kestrel Fire Weather Meter PRO WBGT adds the WBGT measurement to the full capability of the Fire Weather Meter Pro – making it the complete  tool for monitoring WBGT and fire weather during training or operations.  With pre-programmed ACGIH guidelines and alert settings to indicate when conditions have become extremely unsafe, the Kestrel Fire Weather Meter PRO with WBGT is the ultimate tool for increasing the safety of your crew.
Unlike other WBGT meters on the market, the Kestrel 5400 Fire Weather Pro WBGT is also a rugged, compact and easy-to-use portable weather station.  Clip the Kestrel 5400 into the secure tripod vane mount to set up a weather and heat safety monitoring station in seconds.  Measure wind speed, direction, temperature, humidity, pressure, dew point, elevation, density altitude, PIG, FDFM and more. In addition to measuring the current environmental conditions, the Kestrel 5400 Fire Weather Pro tracks and logs over 10,000 sets of time-stamped data. Your data log can be transferred to an iOS/Android device wirelessly with the LiNK wireless communication option and free Kestrel LiNK app, then exported and shared via email with ease. Data can also be transfered to a Windows/Mac device with either the accessory Kestrel LiNK Dongle or waterproof USB Data Transfer Cable (both sold separately). 
The Kestrel 5400 Fire Weather Meter Pro WBGT offers a large, high-resolution and contrast display and easy font readability. It also includes a built-in dual color backlight, extra-strong polycarbonate lens and AA battery operation, along with LiNK iOS and Android wireless connectivity and app support. Like all Kestrel meters, the Kestrel 5400 Fire Weather Pro WBGT is drop-proof, dust-proof, waterproof and able to withstand harsh environments without damage – so it can so it can work as hard as you do.
Kestrels have been put to the test in some of the harshest conditions on the planet. U.S. Special Forces, combat weather teams, wildland firefighters, smoke jumpers, Mt. Everest expeditions and auto pit crews are just a few who rely on a Kestrel to provide them with the crucial environmental data they need. There truly is no comparable environmental safety monitoring tool on the market. Adopt best safety practices for your team or workplace and add a Kestrel Heat Stress Tracker to your toolkit.
Features:
Waterless WBGT accurately calculated from on-board digital sensors with no tedious setup or maintenance.
Large, hi-res, hi-contrast, graphic display is perfectly readable in the brightest sunlight and is backlit for use in low-light conditions.
Handheld, portable, data logger with customizable warning flag settings, graphing and measurement statistics.
Optional LiNK connectivity powered by Bluetooth Smart® provides wireless communication to mobile devices and computers and easy data export for sharing with crew members.
Rugged (drop tested to MIL-STD-810G standards), waterproof (sealed to IP67 standards) and floats.
Protective pouch, neck lanyard and Lithium AA battery included. • 5-year warranty.
Kestrel 5400FW Specifications and Dimensions:
Dimensions: 6.4 x 1.8 x 1.1 in. / 16.25 x 4.5 x 2.8 cm

Weight: 4.7 Ounces / 133.2 Grams
MFG Part#

0854FWLVCORA

, Model# 5400FW Fire Weather Pro with LiNK & Vane Mount (Orange)