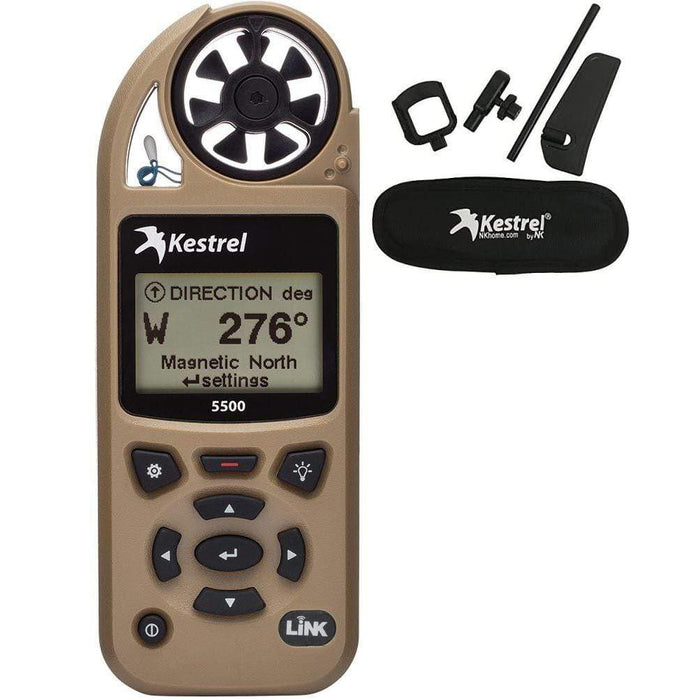 Kestrel 5500 Weather Meter
The world's most complete weather meter and portable Weather Station.
Original price
$364.00 USD
-
Original price
$470.00 USD
Original price
$364.00 USD
$349.00 USD
-
$419.00 USD
Current price
$349.00 USD
Measures:
Wind Speed
Average Wind Speed
Maximum Wind Gust
Current Wind Speed
Temperature
Barometric Pressure
Relative Humidity
Wind Chill
Heat Stress Index
Dew Point Temperature
Altitude (Barometric)
Wet Bulb Temperature (Psychrometric)
Density Altitude
Wind Direction
Bluetooth (LiNK model)
Pressure Trend
Includes:

(1) AAA Lithium Battery
Instructions
Lanyard
Padded carry case that holds vane mount & meter (Comes with LiNK model only)
Rotating Vane Mount for Tripod (Comes with LiNK model only)
Certificate Of Conformity (Spec Sheet)
Downloads / Specifications:
Warranty:

5 year manufacturers warranty.
Accurate environmental conditions, not from a distant weather station but from the palm of your hand with the Kestrel 5500 Handheld Pocket Weather Meter!
Wind speed, temperature, humidity, barometric pressure, wind direction and density altitude plus logging capabilities – the indispensable tool for portable environmental monitoring. The Kestrel 5500 measures every environmental condition plus wind direction, crosswind and headwind/tailwind. Use it golfing, sailing, flying, spraying, shooting and more. Drop-proof, dust-proof, waterproof and able to withstand extreme environments, your Kestrel weather meter travels with you anywhere you dare to go. The Kestrel 5500 has a larger, higher-resolution and contrast built-in dual color backlit display, made from extra-strong polycarbonate lens for improved font readability. Optional LiNK iOS and Android wireless connectivity and app support available. Like all Kestrel meters, the Kestrel 5500 is drop-proof, dust-proof, waterproof and able to withstand harsh environments without damage – so it can so it can work or play as hard as you do, wherever you do.
In addition to measuring the current environmental conditions, the Kestrel 5500 tracks and logs over 10,000 sets of time-stamped data. Your data log can be transferred to a iOS/Android device wirelessly with the LiNK wireless communication option and the Kestrel LiNK app, or to a Windows PC or Mac with either the accessory Kestrel LiNK Dongle or waterproof USB Data Transfer Cable (Both sold separately).The true versatility of the Kestrel 5500 becomes apparent with the addition of the Kestrel Vane Mount. This precision-engineered accessory securely mounts the Kestrel 5500 to any tripod or other ¼-20 fitted bracket. Once mounted, the Kestrel 5500 becomes a full-featured weather station. Select "Add LiNK (Bluetooth Connectivity) + Vane Mount" or select the standard 5500 and purchase the vane mount separately in our Accessories section.
Features:
Easy to read, high resolution screen (standard and NV backlit).
Time & date
Waterproof & floats
Exterior temperature, humidity & pressure sensors for fast & accurate readings
Humidity sensor can soon be calibrated in the field via cable or Dongle.
Min, Max & Average values
Automatically store measurements, when powered on or off
Manually store measurements with the press of a button
Customizable data storage - 10,000 data points
Graph & recall trends
Customize screens to display user-selected measurements
Data charting
Data upload to iOS & Android phones & tablets
Data upload to Windows or Mac computers with optional USB Data Cable
Data upload to Windows & Mac computers via wireless Bluetooth (LiNK Enabled Meters only with the optional Kestrel Dongle)
Languages: English, French, Spanish, German & Italian
User-replaceable impeller
impeller cover allows use of other functions & protecting the impeller
All instruments and accessories are completely assembled in the USA
Physical Specifications:
Dimensions: 5.0 x 1.8 x 1.1 in. / 12.7 x 4.5 x 2.8 cm
Weight: 3.6 Ounces / 102 Grams
MFG Part#

0855OLV

, Model# 5500 (Olive Drab)
MFG Part#

0855TAN

, Model# 5500 (Desert Tan)
MFG Part#

0855YEL

, Model# 5500 (Yellow)
MFG Part#

0855LVOLV

, Model# 5500 with LiNK & Vane Mount (Olive Drab)
MFG Part#

0855LVTAN

, Model# 5500 with LiNK & Vane Mount (Desert Tan)
MFG Part#

0855LVYEL

, Model# 5500 with LiNK & Vane Mount (Yellow)