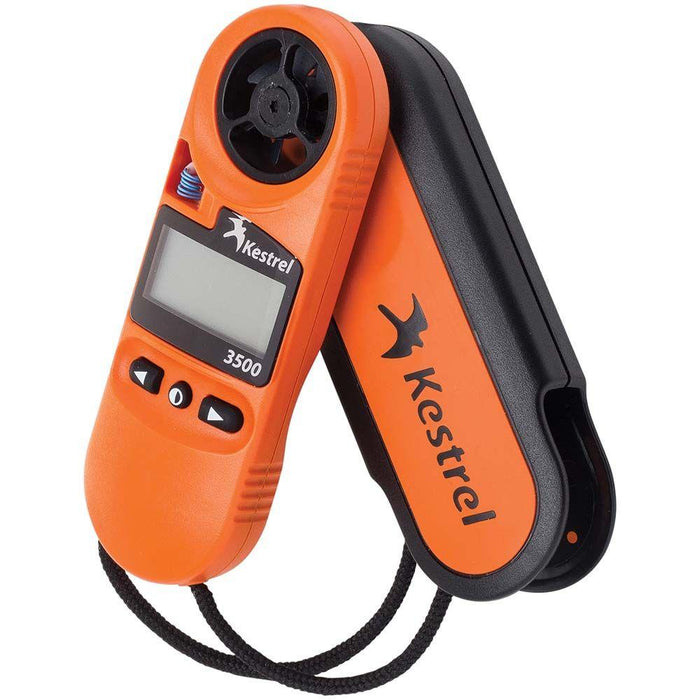 Kestrel 3500FW Pocket Fire Weather Meter
Original price
$269.00 USD
Original price
$269.00 USD
-
Original price
$269.00 USD
Original price
$269.00 USD
Current price
$199.00 USD
$199.00 USD
-
$199.00 USD
Current price
$199.00 USD
Free Shipping in the USA. Ships within 24 hours. Ships Worldwide.
Measures:
Wind Speed
Current Wind Speed
Average Wind Speed
Maximum Wind Gust
Temperature
Barometric Pressure
Relative Humidity
Pressure Trend
Wind Chill
Heat Stress Index
Dew Point Temperature
Altitude (Barometric)
Wet Bulb Temperature (Psychrometric)
Includes:

(1) CR2032 Lithium Battery
Instructions
Lanyard
Certificate Of Conformity (Spec Sheet)
Protective Cover - Hard Slip-on
Waterproof PIG Reference Card
Downloads / Specifications:
Warranty:

5 year manufacturers warranty.
Shipping / Returns / Taxes:

All items ship for free in the USA. Spend $250 USD for free worldwide shipping! Shipping rates and services are available on the cart page. Estimated delivery dates will be displayed during checkout.

International orders may be subject to customs fees / taxes / duties and additional delivery fees prior to or at time of delivery. Please check with your country's customs office to determine if you are responsible for paying these fees.

State Sales Tax (USA): We collect sales tax on shipments to Pennsylvania customers only.

We offer a 45 day no-hassle return policy. Free returns are available in the USA only.
Measure weather conditions quickly and easily with the trusted tool of firefighters, now with wet bulb and barometer measurements included.
When fighting wildfires, protecting lives, houses, and property while ensuring safety for everyone involved demands accurate fire behavior predictions based upon good weather observations.
Kestrel weather meters have been relied upon by fire fighters for decades to provide fast, accurate measurement of wind speed, temperature and humidity. The Kestrel 3500 (MPN# # 0835FWORA) Fire Weather Meter has been updated specifically for fire fighting, adding barometric pressure, altitude and wet bulb readings and an easy-to-read Probability of Ignition (PIG) and Fine Dead Fuel Moisture (FDFM) reference card – everything required for a complete weather observation. This one rugged, handheld instrument easily replaces all of the items included in your Belt Weather Kit, providing consistently accurate measurements without prepping a sling psychrometer or risking the possibility of human error.
IP67 waterproof and Mil-SPEC-810G drop tested, Kestrels are built for the abuse that work on a fire line can dish out. The Kestrel 3500 Fire Weather Meter includes a hard, rubberized slip-on cover that protects the display and impeller, even when tossed in your pack. Kestrel Weather & Environmental Meters are designed & manufactured in the U.S.A and are backed by our 5-year warranty. Each Kestrel 3500 is factory calibrated and comes with a certificate of conformity and may be factory or field recalibrated.
Features:
Simple 3-Button Control
High Contrast, Sunlight Readable Monochrome LCD Display
Backlight (Blue white)
Temperature Sensor (Patented External Isolated)
CR2032 Coin Cell Battery (Average Life 300 Hours)
Data Hold Function
Drop-Tested to MIL-STD-810G
Waterproof to IP67 (3'/1M for 30 minutes)
Kestrel Certificate of Conformity
Neck Lanyard
Patented Impeller and Sensor Technology
Slip-On Protective Cover
Time of Day
User-Replaceable Batteries
User-Replaceable Impeller
Waterproof & Floats
Designed and built in the USA
Waterproof PIG Reference Card
Physical Specifications:

Dimensions: 4.8 x 1.7 x 0.7 in. / 122 x 42 x 18 mm
Weight: 2.3 Ounces / 65 Grams
MFG Part# 0835FWORA, Model# 3500FW (Orange)
Related Item: