Know your temperature and humidity conditions anywhere.
Regular price
Sale price
$99.00 USD
Unit price
per
Couldn't load pickup availability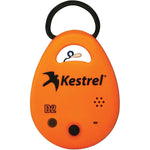 Regular price
Sale price
$99.00 USD
Measurement

Temperature
Relative Humidity
Dew Point Temperature
Heat Stress Index

Includes

(1) CR2032 Lithium Battery
Instructions
Certificate Of Conformity (Spec Sheet)

Warranty

Country of origin
Kestrel DROP D2HS Heat Stress Monitor Overview
Know your temperature and humidity conditions anywhere with the small, rugged Kestrel DROP D2 Heat Stress Monitor.
The Kestrel DROP D2 data logger can be placed wherever needed to log temperature and humidity with the data logs retrieved wirelessly and automatically to the Kestrel LiNK app when within wireless range(up to 100' or more line of sight).
The EASIEST way to monitor and track temperature, humidity, heat index and dew point in almost any environment – wet or dry, indoors or out
View data wirelessly via Bluetooth Smart on your iOS or Android phone or tablet with the free Kestrel LiNK app 
Store thousands of data points and get months of logging on a single coin-cell battery - customize logging rate, connections and alerts
See, save and share data from multiple DROPs with just one phone or tablet -

iOS 6 installed iPhone 4s, iPad 3rd generation or later
Android 4.3 and higher. Works with most Android devices with Bluetooth Smart®, including Samsung Galaxy, Nexus 4, Motorola Droid and other recent generation phones and tablets. 


---
Use a DROP Anywhere - Small, Accurate, Rugged and Waterproof
Each DROP measures just 1 x 1.8 x 2.4 inches (24 x 46 mm x 60 mm) and weighs just 1.2 ounces (34 grams).  DROP loggers meet military and international standards for water, dust and shock resistance (IP-67 and MIL-STD-810G) and are conveniently equipped with a sturdy d-ring for hanging wherever needed.
Free Kestrel LiNK App:
Download the free Kestrel LiNK to your smartphone. With Kestrel LiNK on your smart phone or tablet, you can view real-time readings from any DROP logger within wireless range (up to 100' or more line of sight) via Bluetooth Low Energy.  Each phone or tablet can connect to up to 8 DROP loggers at the same time and store data logs from many more. Min/Max/Average readings are clearly displayed and the data log is viewable as a scrolling graph with detailed data for each logged point. The Kestrel LiNK app also allows adjustment of the logging interval and other settings as well as real-time threshold alerts. Readings can be updated as frequently as every 2 seconds and logging time and date are automatically updated whenever connected to your smart device. You can also send and share real-time and logged environmental data via email, Facebook or Twitter.
DROP D1-D3 Data Points:
DROP D1:  Data Points: 13064
Logging every 2 seconds - Fills up after 7.5 hours
Logging every 10 minutes - Fills up after 90.7 days
Logging every 2 hours - Fills up after 544 days
DROP D2:  Data Points: 8165
Logging every 2 seconds - Fills up after 4.5 hours
Logging every 10 minutes - Fills up after 56.7 days
Logging every 2 hours - Fills up after 340 days. 
DROP D3:  Data Points: 6220
Logging every 2 seconds: Fills up after 3.4 hours
Logging every 10 minutes - Fills up after 43.2 days
Logging every 2 hours -  Fills up after 259 days
Battery Life:
The battery life will vary based on usage.
For baseline conditions and settings*, the battery will last approximately 6 months. *Temp = 75°F, Logging Rate = 10 Minutes, Update Rate = 30 seconds.
Battery life will be reduced by:

Colder conditions
More frequent logging or update rates

Downloads of large data logs (or firmware updates) are best completed with a fresh battery and in temperatures above 10°C / 50°F.
Requirements:
iOS 6 installed iPhone 4s, iPad 3rd generation, iPod Touch 5th generation and above.
Android 4.2 and higher. Works with most Android devices with Bluetooth® low energy, including Samsung Galaxy, Nexus 4, Motorola Droid, and other recent generation phones and tablets.
Model & SKUs:
Kestrel DROP D2 - Part # 0720ORA
Features:
Bluetooth Smart (Wireless Technology)
Data Logger
Drop-Tested, MIL-STD-810G
IP67 Waterproof
Lightweight & Durable
Who's Using the Kestrel DROP D2HS Heat Stress Monitor?
Education & Classroom Use
Facilities Management
Farming & Agriculture
Firefighting
Hazardous Materials Response
Hunting
Individual At-Home Use
Military
Outdoor Event Organizers
Precision & Competitive Shooting
Research & Technology
American-Made Quality and a Five-Year Warranty
Every Kestrel environmental instrument is designed and built entirely in the USA. Kestrel's history and focus on quality and ruggedness is reflected in the DROP's industry-leading five-year warranty. Kestrel has been building rugged environmental instruments that help people do their jobs more safely and efficiently for more than fifteen years and has built a reputation for reliability one meter at a time.
Kestrel D1 - D3 Sensor Specifications
SENSORS
SENSORS
ACCURACY (+/-)
RESOLUTION
SPECIFICATION RANGE
NOTES
AmbientTemperature
0.9 °F
0.5 °C
0.1 °F 0.1 °C
14 to 131°F
-10 to 55 °C
Airflow of 2.2 mph|1 m/s or greater provides fastest response and reduction of insolation effect. For greatest accuracy, avoid direct sunlight on the temperature sensor and prolonged sunlight exposure to the unit in low airflow conditions. Calibration drift is negligible for the life of the product. For further details, see Battery Operational Temperature Limits.
Relative Humidity
2%RH
0.1 %RH
10 to 90% 25°C noncondensing
To achieve stated accuracy, unit must be permitted to equilibrate to external temperature when exposed to large, rapid temperature changes and be kept out of direct sunlight. Calibration drift is typically less than ±0.25% per year.
Pressure
1.5 hPa|mbar
0.044 inHg
0.022 PSI
0.1 hPa|mbar
0.01 inHg
0.01 PSI
25°C/77°F
700-1100 hPa|mbar
20.67-32.48 inHg
10.15-15.95 PSI
Monolithic silicon piezo-resistive pressure sensor with second-order temperature correction. Between 1100–1600 mbar, unit will operate with reduced accuracy. Sensor may not operate above 1600 mbar and can be damaged above 6,000 mbar or below 10 mbar. Calibration drift is negligible for the life of the product.
CALCULATED MEASUREMENTS
MEASUREMENT
ACCURACY (+/-)
RESOLUTION
SENSORS EMPLOYED
Density Altitude
226 ft
69 m
1 ft 1 m
Temperature, Relative Humidity Pressure
Dew Point
3.4 °F
1.9 °C
15-
95% RH. Refer to Range for Temperature Sensor
0.1 °F
0.1 °C
Temperature, Relative Humidity
Heat Index
7.1°F
4.0°C
0.1 °F
0.1 °C
Temperature, Relative Humidity
THI (NRC)
1.5 °F
0.8 °C
0.1 °F
0.1 °C
Temperature, Relative Humidity
THI (Yousef)
2.3 °F
1.3 °C
0.1 °F
0.1 °C
Temperature, Relative Humidity
Wet Bulb Temperature - Psychrometric
3.2 °F
1.8 °C
0.1 °F
0.1 °C
Temperature, Relative Humidity Pressure
ADDITIONAL PRODUCT INFO
Response Time & Display Update
Display updates every 1 second. After exposure to large environmental changes, all sensors require an equilibration period to reach stated accuracy. Measurements employing RH may require longer periods particularly after prolonged exposure to very high or very low humidity. WBGT requires about 8 minutes to reach 95% accuracy and about 15 minutes to reach 99% accuracy after exposure to large environmental changes.
Data Storage
Logged history stored for every measured value. Auto-store interval settable from 2 seconds to 12 hours*, overwrite on or off. D1: >13,000 data points, D2: >7,000 data points, D3: >6,000 data points.
Bluetooth® Data Connect Option
Wireless range up to 100ft|30m. Compatible with Kestrel LiNK app for iOS (model 4s and later) and select Android products (Android 4.3 and higher) (See website for complete list of compatible 3rd party apps).
Certifications
CE certified, RoHS, FCC, IC tested and WEEE compliant. Individually tested to NIST-traceable standards.
Origin
Designed and manufactured in the USA from US and imported components. Complies with Regional Value Content and Tariff Code Transformation requirements for NAFTA Preference Criterion B.
Battery
User-replaceable CR2032 (included).
Shock Resistance
MIL-STD-810g, Transit Shock, Method 516.6 Procedure IV; unit only; impact may damage replaceable impeller.
Sealing
Waterproof (IP67 and NEMA-6)
Battery Operational Temperature Limits
0° F to 140 ° F | -18 °C to 60°C Measurements may be taken beyond the limits of the operational temperature range of batteries by maintaining the unit within the operational range and then exposing it to the more extreme environment for the minimum time necessary to take reading.
Storage Temperature
-22.0 °F to 140.0 °F | -30.0 °C to 60.0 °C.
Size & Weight
2.4 x 1.8 x 0.9 in | 6 x 4.5 x 2.3 cm 1.2oz | 34g (Lithium battery included)
USA:
Sales Tax:
We collect sales tax on orders shipping to Pennsylvania only.
Free Ground Shipping: 
Enjoy free shipping within the USA (1-4 business days ETA). Most orders ship the same day if ordered by 12:00PM ET.
Free 2 Day Delivery (USA Only):
Spend $250 and you have the option to select free 2 day delivery. Free 2 Day delivery is only available in the continental USA. We mostly use UPS for this service so if your address is a PO box or anywhere UPS does not deliver to we cannot guarantee 2 day delivery.
Other Shipping Services
We offer discounted expedited shipping such as Next Day Air, 2nd Day Air and more. All shipping services, times and rates are displayed during checkout.
Global (worldwide) Shipping
We offer the following international shipping services: (UPS, USPS & DHL). Not all shipping services are offered to every country. If they are offered to your country, it will be displayed in your cart and checkout.
We ship worldwide with few exceptions. Our discounted shipping rates and services are displayed in your cart and during checkout.
Tracking: All shipments include a tracking number and shipment progress updates either by email or text updates.
All International shipments are insured.
In order to protect our customers, we do insure all international shipments against loss or damage. You can rest assured that if something happens to your shipment during its journey, we have you covered. It is extremely rare that we have a lost or damage shipment. We have been shipping worldwide for over 15 years. All paperwork is professionally produced and all packages are secure. We are unable to offer insurance to the Ukraine at this time due to the war.
Recipients of international shipments may be subject to import taxes, fees, and customs duties (hereafter, "Import Fees"), levied by the customs office and or delivery service of your shipping destination. Import Fees vary according to the customs regulations of the destination country.You may be notified by the delivery service to pay these fees (if any are due), either by email or phone. It is important to respond quickly.
We are always available to assist our customers when needed!
Delivery Guarantees:
We do our best and pride ourselves on getting your order to you in a timely fasion which means we ship out when we say we will. That being said most delivery services are not guaranteeing delivery dates at this time (see below).
Due to the COVID outbreak, and during major gift giving holidays there has been and will be some disruption of delivery services. Please check with the delivery service you choose to transport your package for any notices if delivery time is critical. 
100% Satisfaction Guaranteed
We stand behind every product we sell. If you are not satisfied with your purchase or have a problem with your item, just send us an email within 40 days of purchase and we will email you a prepaid return label. All you will need are your ExtremeMeters.com order number and we will email the return label within 24 hours to the email address used when placing the order.
ExtremeMeters.com guarantee doesn't cover ordinary wear and tear or damage caused by improper use or accidents.
If your item has a manufacturing defect in its materials or workmanship (extremely rare), you can return it to us at any time. If sent within 45 days, we will replace or refund. If after 45 days and up to 5 years, it will become a warranty issue.
Once the item(s) are returned to us, it usually takes 24 hours to process refunds.
We do not ship on the following holidays observed in the USA.
New Year's Day
Memorial Day
Independence Day
Labor Day
Thanksgiving Day
Christmas Day
Returns:
Submit a return request:
Within 45 days of your items ship date, click the profile icon in the store's navigation, log in and then request a return.
Here is how:
Log in to your account: In the

 

Email

 

field, enter your email address, and then click

 

Continue.
In your email account, open the email sent from our store and copy the six-digit verification code included in the email.
Go back to the online store, and then enter a six-digit verification code.
Click the order that you want to submit the return for.
If your order has more than one item, then select the items that you want to return.
Select a return reason and add a note for the store.
Click

 

Request return. If your return request is approved and requires shipping, then you receive an email with shipping instructions and a return shipping label. After the product is returned, you receive a refund.
Choosing a selection results in a full page refresh.