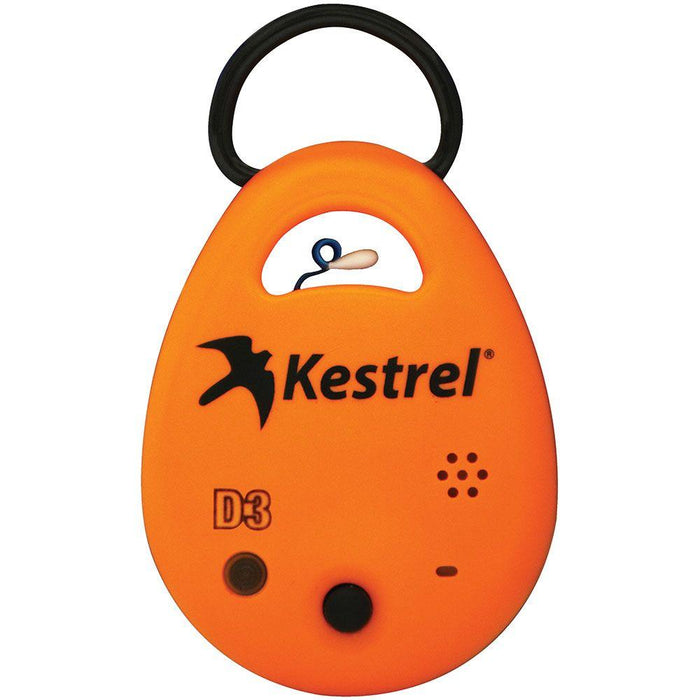 Kestrel DROP D3FW Fire Weather Monitor
Track weather conditions and record trends at a burn site
Original price
$129.00 USD
-
Original price
$129.00 USD
$129.00 USD
-
$129.00 USD
Current price
$129.00 USD
Measures:
Wet Bulb Temperature (Psychrometric)
Dew Point Temperature
Heat Stress Index
Relative Humidity
Barometric Pressure
Temperature
Includes:

(1) CR2032 Lithium Battery
Instructions
Certificate Of Conformity (Spec Sheet)
Downloads / Specifications:
Warranty:

5 year manufacturers warranty.
Track weather conditions and record trends at a burn site or from the minute you get on a fire, then export data to get crucial information where it needs to go.
Kestrel DROP D3FW Fire Weather Monitor Overview
When managing a burn site, knowing environmental conditions are within prescription is important for compliance and to ensure a fire doesn't get out of control.  Gathering sufficient weather data from site visits to make a decision on when to burn can be challenging.  In addition to the full wind and weather readings from a Kestrel weather meter, the new Kestrel DROP data loggers can be left on site recording a history of conditions and trends which can then be viewed on a mobile device when within range via Bluetooth and shared via email.
Small, Accurate, Rugged and Waterproof
Each Kestrel Fire Weather DROP measures just 1 x 1.8 x 2.4 inches (24 x 46 mm x 60 mm) and weighs just 1.2 ounces (34 grams).  DROP loggers meet military and international standards for water, dust and shock resistance (IP-67 and MIL-STD-810G) and are conveniently equipped with a sturdy D-ring for hanging wherever needed.
Log, View and Share on the Kestrel LiNK App
Kestrel LiNK is the free app that powers the Fire Weather DROP data logger. With Kestrel LiNK on your smart phone or tablet, you can view real-time readings from any DROP logger within wireless range (up to 100' or more line of sight) via Bluetooth® low energy. Min/Max/Average readings are clearly displayed and the data log is viewable as a scrolling graph with detailed data for each logged point. The Kestrel LiNK app also allows adjustment of the logging interval and other settings as well as real-time threshold alerts. Readings can be updated as frequently as every 2 seconds and logging time and date are automatically updated whenever connected to your smart device.  You can also send and share real-time and logged environmental data via email, Facebook or Twitter
DROP D1-D3 Data Points:
DROP D1:  Data Points: 13064
Logging every 2 seconds - Fills up after 7.5 hours
Logging every 10 minutes - Fills up after 90.7 days
Logging every 2 hours - Fills up after 544 days
DROP D2:  Data Points: 8165
Logging every 2 seconds - Fills up after 4.5 hours
Logging every 10 minutes - Fills up after 56.7 days
Logging every 2 hours - Fills up after 340 days. 
DROP D3:  Data Points: 6220
Logging every 2 seconds: Fills up after 3.4 hours
Logging every 10 minutes - Fills up after 43.2 days
Logging every 2 hours -  Fills up after 259 days
Battery Life:
The battery life will vary based on usage.
For baseline conditions and settings*, the battery will last approximately 6 months. *Temp = 75°F, Logging Rate = 10 Minutes, Update Rate = 30 seconds.
Battery life will be reduced by:

Colder conditions
More frequent logging or update rates

Downloads of large data logs (or firmware updates) are best completed with a fresh battery and in temperatures above 10°C / 50°F.
Requirements:
iOS 6 installed iPhone 4s, iPad 3rd generation, iPod Touch 5th generation and above.
Android 4.2 and higher. Works with most Android devices with Bluetooth® low energy, including Samsung Galaxy, Nexus 4, Motorola Droid, and other recent generation phones and tablets.
Kestrel DROP D3 - Part # 0730FWORA
American-Made Quality and a Five-Year Warranty
Every Kestrel environmental instrument is designed and built entirely in the USA. Kestrel's history and focus on quality and ruggedness is reflected in the DROP's industry-leading five-year warranty. Kestrel has been building rugged environmental instruments that help people do their jobs more safely and efficiently for more than nineteen years and has built a reputation for reliability one meter at a time.
 Features:
Bluetooth Smart (Wireless Technology)
Data Logger
Drop-Tested, MIL-STD-810G
IP67 Waterproof
Lightweight & Durable
Who's Using the Kestrel DROP D3FW Fire Weather Monitor?