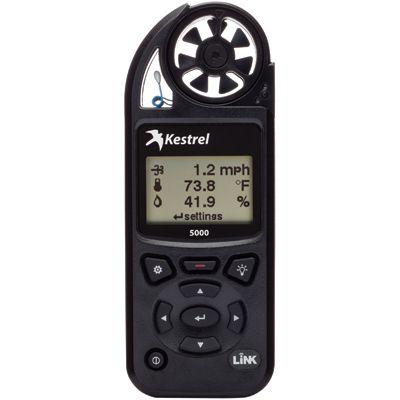 Kestrel 5000 Environmental Weather Meter
Original price
$305.00 USD
-
Original price
$375.00 USD
Original price
$305.00 USD
$269.00 USD
-
$329.00 USD
Current price
$269.00 USD
Free 2 Day Delivery in the USA. Ships within 24 hours. Ships Worldwide.
Measures:
Wind Speed
Current Wind Speed
Average Wind Speed
Maximum Wind Gust
Temperature
Barometric Pressure
Relative Humidity
Wind Chill
Heat Stress Index
Dew Point Temperature
Altitude (Barometric)
Density Altitude
Wet Bulb Temperature (Psychrometric)
Pressure Trend
Bluetooth (LiNK model)
Includes:

(1) AAA Lithium Battery
Instructions
Protective Draw String Pouch
Lanyard
Certificate Of Conformity (Spec Sheet)
Downloads / Specifications:
Warranty:

5 year manufacturers warranty.
The next generation of environmental conditions monitoring is the here with the Kestrel 5000 Environmental Meter.
Wind speed, temperature, humidity, barometric pressure and density altitude plus logging capabilities – the indispensable tool for portable environmental monitoring.
The Kestrel 5000 Environmental Meter is a remarkably powerful measuring and data logging tool, yet remarkably compact. The Kestrel 5000 provides the same trusted accuracy, reliability, and usability as the retired Kestrel 4000. Use it for research, safety, expeditions, agriculture and any other profession or activity where accurate on-the-spot conditions monitoring is key.
The Kestrel 5000 also tracks and logs over 10,000 sets of time-stamped data.
There are two versions of the 5000. The 5000 and the 5000 with LiNK. Both units can transfer data to a Windows or Mac computer with the optional waterproof Kestrel Data Transfer Cable and the appropriate Kestrel LiNK app (See Below).
The 5000 with LiNK Bluetooth Connectivity, gives you the option to transfer data wirelessly to an iOS (iPhone, iPad) device or Android smartphone or tablet when within range using the appropriate app (See Below). Also with the 5000 with LiNK Meter, you can transfer data wirelessly to a Windows or Mac computer using the optional Kestrel Bluetooth USB Dongle.
Improved font readability with it's larger, higher-resolution / contrast display & built-in dual color backlight. The 5000 is drop-proof, dust-proof, waterproof and able to withstand harsh environments.
From U.S. Special Forces, combat weather teams, wildland firefighters, smoke jumpers, Mt. Everest expeditions and auto pit crews the 5000 gives them the crucial environmental data they need. Watch any on-screen meteorologist during a hurricane, and you're sure to spot a Kestrel in action. Researchers have relied on Kestrel's accuracy and portability for nearly 20 years, and you'll find Kestrel referenced in many a peer-reviewed journal article. If environmental conditions are important in your profession or favorite activity, there is no better partner.
Features:
Easy to read, high resolution screen (standard and NV backlit).
Time & date
Waterproof & floats
Exterior temperature, humidity & pressure sensors for fast & accurate readings
Humidity sensor can soon be calibrated in the field via cable or Dongle.
Min, Max & Average values
Automatically store measurements, when powered on or off
Manually store measurements with the press of a button
Customizable data storage - 10,000 data points
Graph & recall trends
Customize screens to display user-selected measurements
Data charting
Data upload to iOS & Android phones & tablets
Data upload to Windows or Mac computers with optional USB Data Cable
Data upload to Windows & Mac computers via wireless Bluetooth (LiNK Enabled Meters only with the optional Kestrel Dongle)
Languages: English, French, Spanish, German & Italian

impeller cover allows use of other functions & protecting the impeller



All instruments and accessories are completely assembled in the USA
Physical Specifications:

Dimensions: 5.0 x 1.8 x 1.1 in. / 12.7 x 4.5 x 2.8 cm
Weight: 3.6 Ounces / 102 Grams
MFG Part# 0850BLK, Model# 5000

MFG Part# 0850LBLK, Model# 5000 with LiNK