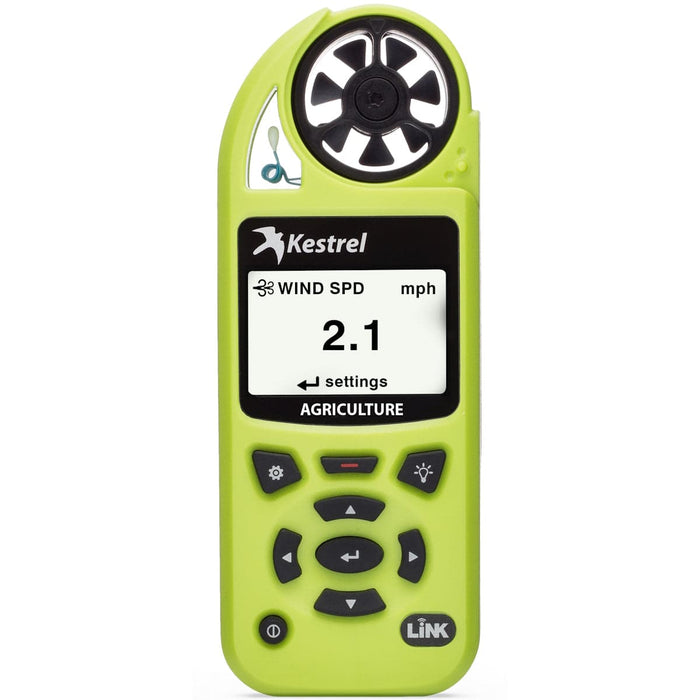 Kestrel 5500AG Agriculture Weather Meter
Original price
$375.00 USD
-
Original price
$470.00 USD
Original price
$375.00 USD
$329.00 USD
-
$399.00 USD
Current price
$329.00 USD
Free 2 Day Delivery in the USA. Ships within 24 hours. Ships Worldwide.
Measures:
Air Flow (CFM)
Wind Speed
Current Wind Speed
Average Wind Speed
Maximum Wind Gust
Temperature
Barometric Pressure
Delta-T
Density Altitude
Dew Point Temperature
Wind Direction
Heat Stress Index
Relative Humidity
Temperature-Humidity Index (THI)
Wet Bulb Temperature (Psychrometric)
Pressure Trend
Wind Chill
Bluetooth (LiNK model)
Includes:

(1) AAA Lithium Battery
Instructions
Lanyard
Certificate Of Conformity (Spec Sheet)
Padded carry case that holds vane mount & meter (Comes with LiNK model only)
Rotating Vane Mount for Tripod (Comes with LiNK model only)
Downloads / Specifications:
Warranty:

5 year manufacturers warranty.
Shipping / Returns / Taxes:

All items ship for free in the USA. Spend $250 USD for free worldwide shipping! Shipping rates and services are available on the cart page. Estimated delivery dates will be displayed during checkout.

International orders may be subject to customs fees / taxes / duties and additional delivery fees prior to or at time of delivery. Please check with your country's customs office to determine if you are responsible for paying these fees.

State Sales Tax (USA): We collect sales tax on shipments to Pennsylvania customers only.

We offer a 45 day no-hassle return policy. Free returns are available in the USA only.
Agriculture production requires local, site specific information regarding indoor climates and outdoor environments.
The Kestrel 5500AG is your comprehensive meter for condition monitoring and record keeping on the farm, ranch, or in the field. The Kestrel 5500AG provides you with data for risk identification, environment assessments, and action plan development. This meter includes THI, compass for direction and Delta T, an additional measurement to aid spraying applications.
Get the environmental data you need for livestock and crop production and other farm and ranch activities. This lightweight, handheld, multi-function meter can be used inside and out for barn/facility condition assessments to spraying decisions where both wind speed and direction must be recorded. This comprehensive meter will deliver spot measurements, log and store data, and aid in auditing and record keeping. The Kestrel 5500AG is easily carried in a pocket or glove box and is ready to help whenever and wherever needed. Its rugged build and waterproof case mean it can work as hard as you do. Be prepared: be informed of local and micro-climate environments at your site. 
Clip the Kestrel 5500AG into the optional Kestrel 5 Series Rotating Vane Mount and you have a sturdy weather station that can be left in place for days or weeks.
Spray Management:
The Kestrel 5500AG provides Delta T measurements to aid in assessing acceptable spraying conditions and ensure you're within guidelines. Based upon ambient temperature and dew point, Delta-T provides guidance on the evaporation rate of sprayed chemicals to help you select the right spray nozzle. The compass provides direction to minimize spray drift. The Kestrel 5500AG calculates and logs on-site Delta T, wind speed, and direction without any additional user input. When combined with the Kestrel's average wind and max wind gust measurements, agriculture professionals can ensure they spray safely, every time. Use an accessory carry pouch to keep your Kestrel handy on your belt, ready to go before any spraying operations. Spraying with Dicamba can be harmful if it drifts to a neighbors crop. With the Kestrel 5500AG, you can log important data including wind speed, direction and Delta T. You can also email data logged with the Kestrel 5500AG with LiNK, and the Kestrel LiNK app for your smartphone.
Heat Stress Management with THI

:
THI, (Temperature-Humidity Index)  has been used for decades as a measure to classify heat stress risk in many livestock production and transportation operations. This measurement includes both temperature and relative humidity and is a basis for both strategic and tactical management practices which benefit animal health, productivity and well-being. The Kestrel 5500AG calculates and logs on-site THI based on user selection of either the NRC(National Research Council, 1971) or Yousef(Yousef, 1985) accepted THI calculations. Objective and accurate site-specific measurements are critical to ensuring a heat stress management strategy that is cost effective; and they're at your fingertips with the 5500AG.
Barn / Housing Ventilation Assessments:
Regardless of the type of barn/house design all livestock require proper ventilation and air movement to maximize health, growth, and comfort.  The Kestrel 5500AG provides wind speed and air flow measurements to quickly quantify air movement in the vicinity of livestock, locate drafts, measure fan effectiveness and confirm duct discharge velocity. Volume air flow takes duct shape and dimensions into account and allows for accurate comparison of various locations in a system. No calculator is needed to determine airflow with the Kestrel 5500AG – a few quick menu picks and built-in averaging gives you accurate readings instantly.
Microclimate, Harvest and Storage Conditions

:
Many livestock professionals also grow and store grains, hay and other feedstuffs. The Kestrel 5500AG can measure micro-climates around the farm to determine where mold and disease may be a problem, ensuring conditions are right for harvesting, drying, and storage. Leave the Kestrel 5500AG in place anywhere in the field, barn or greenhouse to get a graphical history of overnight conditions, (the Kestrel 5 Series Rotating Vane Mount and a ¼-20 camera clamp or tripod makes it easy).
Choose Kestrel LiNK Option to add the power of Apps:
LiNK is Kestrel's wireless data communication system, powered by Bluetooth® low energy. Choose the Kestrel 5500AG with LiNK option and you get full iOS, Android, PC and Mac app support.  See real-time readings on your phone or tablet on a customizable dashboard up to 100' away (line of sight). Download stored data from your Kestrel to save or share it. Plus, you can update the firmware on your Kestrel when improvements are released.
Note:Bluetooth® low energy is built into all recent iOS and Android devices. PC and Mac connectivity require purchase of a Kestrel LiNK USB Dongle. Non-LiNK units can be connected to PC's and Mac's, but NOT phones and tablets, using the Kestrel USB Data Cable.
Features:
Rugged (drop tested to MIL-STD-810G standards – 10 drops from 4').
Waterproof and dustproof (sealed to IP67 standards – 30' submersion to 3').
Small – carry in your pocket or store in your glove box.
High visibility case to avoid loss.
Large, hi-res, hi-contrast, graphic display is perfectly readable in the brightest sunlight and is backlit for use in low-light conditions.
Airflow impeller can be field-replaced without tools if damaged – patented!
Protective pouch, neck lanyard and Lithium AA battery included.
5-year warranty.
Handheld, portable, data logger with on-screen graphing and measurement statistics.
Optional LiNK connectivity powered by Bluetooth® low energy provides wireless communication to mobile devices and computers.
Kestrel COC regarding accuracy of measurements
Physical Dimensions:
Dimensions: 5.0 x 1.8 x 1.1 in. / 12.7 x 4.5 x 2.8 cm
Weight: 3.6 Ounces / 102 Grams
MFG Part#

0855AGHVG

, Model# 5500AG
MFG Part#

0855AGLVHVG

, Model# 5500AG with LiNK & Vane Mount