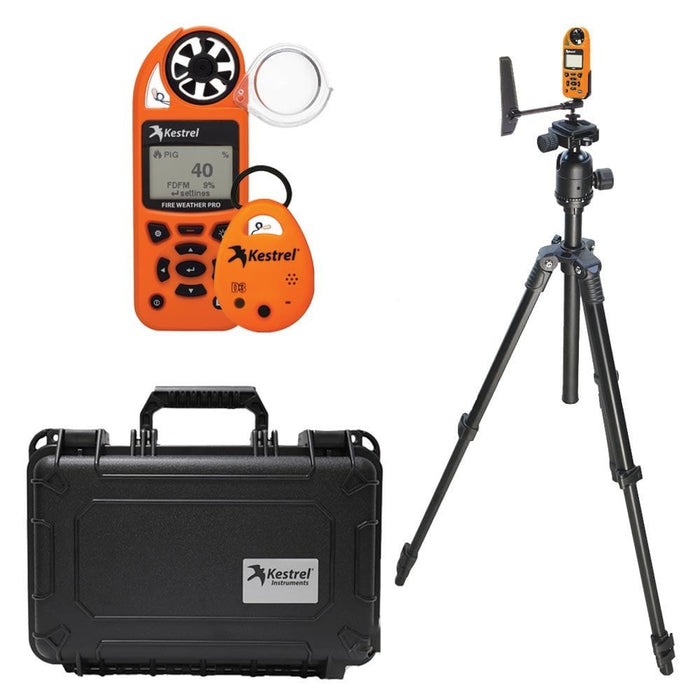 Kestrel Fire Weather Kit (Meter, Data Logger, Tripod, Vane Mount, Hard Case)
Original price
$759.00 USD
Original price
$759.00 USD
-
Original price
$759.00 USD
Original price
$759.00 USD
Current price
$599.00 USD
$599.00 USD
-
$599.00 USD
Current price
$599.00 USD
Free Shipping in the USA. Ships within 24 hours. Ships Worldwide.
Includes:

(1) Kestrel 5500FW Fire Weather Meter Pro with LiNK
(1) DROP D3FW data logger
Rotating Vane Mount for Tripod
Kestrel Collapsible Lightweight Tripod
Hard Case
(1) AA, (1) Cr2032 Lithium Batteries
Certificate Of Conformity (Spec Sheet)
Downloads / Specifications:
Warranty:

5 year manufacturers warranty.
Shipping / Returns / Taxes:

All items ship for free in the USA. Spend $250 USD for free worldwide shipping! Shipping rates and services are available on the cart page. Estimated delivery dates will be displayed during checkout.

International orders may be subject to customs fees / taxes / duties and additional delivery fees prior to or at time of delivery. Please check with your country's customs office to determine if you are responsible for paying these fees.

State Sales Tax (USA): We collect sales tax on shipments to Pennsylvania customers only.

We offer a 45 day no-hassle return policy. Free returns are available in the USA only.
The trusted kit for firefighters, now with FDFM and PIG measurements, enables you to measure weather conditions, view trends, and export weather observations quicker than ever before.
The Kestrel Fire Weather Kit contains:

The 5500FW meter is an all-in-one hand-held belt weather kit replacement, containing every critical weather measurement, including PIG and FDFM. Mount the 5500FW on the tripod with the included vane mount and increase the accuracy of wind direction measurements. The DROP D3FW data logger can be left onsite for continuous recording of conditions and trends, which can then be viewed on a mobile device and shared via email. Measure, log, track trends and expand capabilities with this kit on the free Kestrel LiNK App.