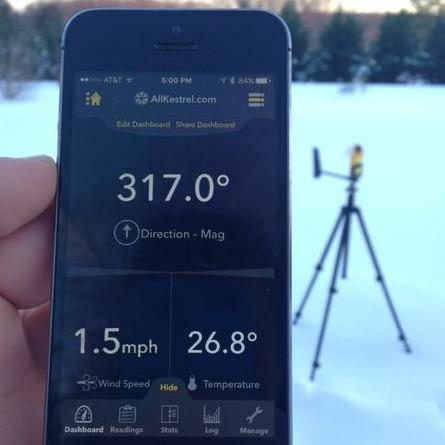 Kestrel 5500 survived the Blizzard of 2016!
We recently had our 4th largest snowfall on record here in the Philadelphia area. We received 23" - 24" of snow starting Friday afternoon and ending Sunday morning. Since this was a blizzard, we thought it would be a great idea to try out a
Kestrel 5500 Weather / Environmental Meter with Bluetooth LiNK
in our back yard to measure wind speed, wind direction, humidity, pressure and temperature. While we knew the Kestrel would log the data for easy download to our iPhone with the
Kestrel LiNK app
, we also wanted to see the real-time readings during the storm wirelessly, again using our iPhone LiNK app. It only took a few seconds to have the
Kestrel collapsible tripod
,
Kestrel rotating vane mount
and Kestrel 5500 Meter in place and ready for action. We checked to make sure the Bluetooth was on and communicating with my iPhone. Everything was a go! It had already started snowing. We had about 6 inches on the ground when the winds started up. What we quickly learned was that unless you have a super heavy duty tripod, don't expect a standard tripod to stay up in high winds without being anchored to something. I dug around in the shed and came up with some tent stakes and pounded them into the frozen ground near each leg. We rubber banded the legs to the stakes, ez-pz. Again, all was working fine but forgetting the Kestrel auto shutoff feature was on, we went back inside where it was nice and toasty. After discovering the Kestrel shut off in a couple of hours like it was supposed to do, which also cutoff the Bluetooth communication, we went back outside to fix the issue. This time in snow pants, boots, heavy gloves, winter coat and a shovel. The auto-shutoff function has different increments as well as off. I turned it off. After that, the Kestrel held up great. One thing we were interested in was if the impeller would clog with snow, which it didn't. It was spinning freely when I fetched the setup from the snow. The Kestrel held up great. We look forward to trying it out in other scenarios!