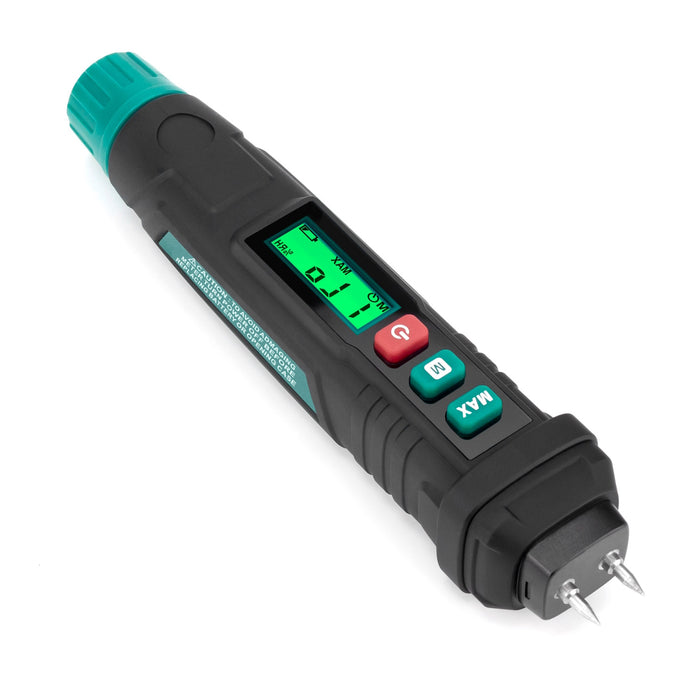 ERICKHILL Pen-Type Digital Wood Moisture Meter with LCD Display. Wood - Concrete +
Original price
$41.95 USD
Original price
$41.95 USD
-
Original price
$41.95 USD
Original price
$41.95 USD
Free Delivery in the USA. Ships within 24 hours.
Availability:
3+ in stock, ready to be shipped
This ERICKHILL moisture meter has two modes, allowing for readings of both timber and other building materials. It offers seven calibrated scales to provide accurate readings, with two high-sensitivity metal tips for superior accuracy.
Material 1: Beech, spruce, larch, birch, cherry, walnut: 8.5~60.0%
Material 2: Oak, pine, maple, ash, Douglas fir, eucalyptus: 6.8~53.4%
Material 3: Cement mortar layer, concrete: 0.9~24.5%
Material 4: Anhydrous gypsum mortar layer: 0.0~12.2%
Material 5: Cement mortar: 0.7~9.2%
Material 6: Lime mortar, gypsum: 0.5~11.0%
Material 7: Bricks: 0.0~17.8%
Tricolor Backlight
The three-color backlight (red/orange/green) indicates high, medium, and low moisture content, allowing quick and accurate identification of dampness. The ERICKHILL moisture meter is the ideal tool for pinpointing areas of moisture buildup.

Material 1: Red>24% ; Orange 15.1%~24% ; Green ≤15%
Material 2: Red >22% ; Orange 14.1%~22% ; Green ≤14%
Material 3: Red >4% ; Orange 2.1%~4% ; Green ≤2%
Material 4: Red >2% ; Orange 1.1%~2% ; Green ≤1%
Material 5: Red >3% ; Orange 2.1%~3% ; Green ≤2%
Material 6: Red >2% ; Orange 1.1%~2% ; Green ≤1%
Material 7: Red>3%; Orange 1.1%~3% ; Green ≤1%
 Certifications: