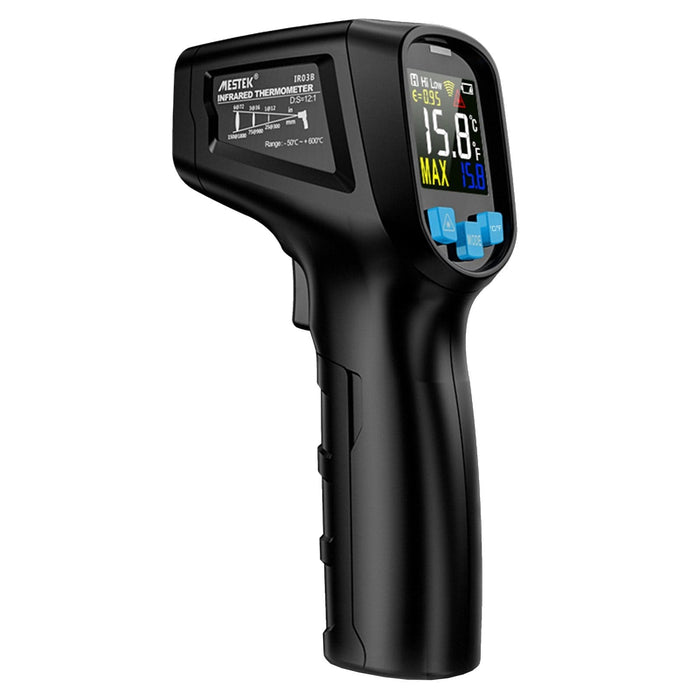 Mestek IR03A Infrared Thermometer Non-contact Temperature Meter Color LCD Screen
Original price
$19.95 USD
-
Original price
$19.95 USD
Free Delivery in the USA. Ships within 24 hours.
Availability:
Only 5 left!
Mestek IR03A Infrared Thermometer Non-contact Temperature Meter Color LCD Screen
Professional digital LCD display infrared thermometer for measuring the surface temperature of an object.

Specifications:

Model: IR03A
Infrared Measurement Range: -50~400℃ (-58~752℉)
Accuracy: -50~0℃(-58~32℉): ±3℃; 0~400℃(32~752℉): ±(1.5% of reading+2℃/4℉)
Material: ABS
Emissivity: 0.1~1.0
Field of View (D:S Ratio): 12:1
Spectral Response: 8~14μ
Laser Pointer Class: Class 2
Laser Pointer Output: <1mW power
Laser Pointer Wavelength: 632~690nm
Response Time: <0.5 second
Automatic Power-off: 30 seconds
Requires: (2) AAA Batteries (Not Included)
Non-contact Measurement: the thermometer can measure various hot, hazardous or hard-to-reach objects without contact, convenient to measure and safe to use.
Measurement Range: -50~400℃/600℃ (-58~752℉/1112℉) wide measuring range with Celsius(°C) and Fahrenheit(°F) optional temperature units.
Low Consumption & Auto-off: just powered by 2pcs 1.5V AAA batteries(NOT included), and the tester will automatic shutdown if there is no operation within 30 seconds, low battery indication on the upper right corner.
Data Reading: HD colored LCD screen with backlit display, combine with data hold function, which allow you to check the data clearly.
Other Features: 0.1~1.0 adjustable emissivity(preset at 0.95), high and low temperature alarm settable, laser ON/OFF settable, etc.
Wide Applications: can be used for the non-contact temperature measurement of the automobile engine/air outlet, air conditioning, oven food, etc.