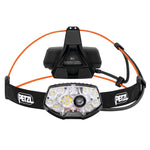 Regular price
$169.95 USD
Regular price
Sale price
$169.95 USD
This ergonomic, ultra-powerful rechargeable headlamp includes REACTIVE LIGHTING® technology and boasts a bright intensity of 1500 lumens.
The NAO® RL rechargeable headlamp is a renowned go-to selection for trails and ultra-running. Delivering 1500 lumens of brightness while weighing just 145 grams, it is comfortably balanced and its adjustable headband keeps excellent support during long and strenuous races. Boasting REACTIVE LIGHTING® technology, the headlamp's brightness dynamically adjusts to surrounding illumination, reducing manual operations to maximize burn time. Additionally, the red lighting at the back ensures visibility while running at night.
Features:
Ultra bright and lightweight: 1500 lumens for a weight of only 145 g
- Lighting for movement automatically adapts to ambient light:
- Wide, uniform beam so you can comfortably see up-close or at your feet
- Mixed beam (wide and focused) allows for proximity and distance vision for movement
- Three white lighting levels: MAX BURN TIME, STANDARD (better power/burn time balance), and MAX POWER
- Longer burn time, greater visual comfort, and less manual operation with REACTIVE LIGHTING® mode, which allows the light sensor to automatically adjust brightness and beam pattern, optimizing battery usage
- Minimum burn time of 5 hours in REACTIVE LIGHTING® mode (STANDARD level), built to power through long activities like trail running and ultra-running
- Red lighting, continuous or strobe, at the rear of the headlamp, and a separate button to quickly turn it on or off
Ergonomic:
The battery pack is in the rear to distribute the weight of the headlamp over the entire head, making it balanced and comfortable to wear
Thin and flexible front plate, to better adapt to different head shapes
Quick and easy rear adjustment
Additional top strap for optimal support
Lithium-Ion 3200 mAh battery, rechargeable with a type C USB port
Carry a spare battery for long distance trail runs, or simply to switch out the battery when it dies (R1 battery available as an accessory)
Battery charge indicator with five-level gauge for precise monitoring of the battery charge level
Rechargeable R1 battery can be used as a spare battery to charge other devices, such as phones or watches
LOCK function to avoid accidentally turning on the lamp during transit or storage, or to lock lighting settings during your activity
Reflective headband to remain visible at night
Storage pouch allows you to turn the headlamp into a lantern in STANDARD mode, or carry an additional battery
Lighting technology
Lighting modes
Brightness
Lighting distance
Burn time
Reserve mode
REACTIVE LIGHTING®
MAX AUTONOMY
320 lm
85 m
15 h
15 lm for 2 h
MAX POWER
750 lm
140 m
6h30
CONSTANT LIGHTING
MAX AUTONOMY
120 lm
65 m
8 h
MAX POWER
530 lm
135 m
1h30
Red lighting
Flashing light on battery at rear of headlamp
-
Visible for 1 km
-
Customizable profiles and burn times with the MyPetzl Light mobile app (download from App Store and Google Play)
USA:
Sales Tax:
We collect sales tax on orders shipping to Pennsylvania only.
Free Ground Shipping: 
Enjoy free shipping within the USA (1-4 business days ETA). Most orders ship the same day if ordered by 12:00PM ET.
Free 2 Day Delivery (USA Only):
Spend $250 and you have the option to select free 2 day delivery. Free 2 Day delivery is only available in the continental USA. We mostly use UPS for this service so if your address is a PO box or anywhere UPS does not deliver to we cannot guarantee 2 day delivery.
Other Shipping Services
We offer discounted expedited shipping such as Next Day Air, 2nd Day Air and more. All shipping services, times and rates are displayed during checkout.
Global (worldwide) Shipping
We offer the following international shipping services: (UPS, USPS & DHL). Not all shipping services are offered to every country. If they are offered to your country, it will be displayed in your cart and checkout.
We ship worldwide with few exceptions. Our discounted shipping rates and services are displayed in your cart and during checkout.
Tracking: All shipments include a tracking number and shipment progress updates either by email or text updates.
All International shipments are insured.
In order to protect our customers, we do insure all international shipments against loss or damage. You can rest assured that if something happens to your shipment during its journey, we have you covered. It is extremely rare that we have a lost or damage shipment. We have been shipping worldwide for over 15 years. All paperwork is professionally produced and all packages are secure. We are unable to offer insurance to the Ukraine at this time due to the war.
Recipients of international shipments may be subject to import taxes, fees, and customs duties (hereafter, "Import Fees"), levied by the customs office and or delivery service of your shipping destination. Import Fees vary according to the customs regulations of the destination country.You may be notified by the delivery service to pay these fees (if any are due), either by email or phone. It is important to respond quickly.
We are always available to assist our customers when needed!
Delivery Guarantees:
We do our best and pride ourselves on getting your order to you in a timely fasion which means we ship out when we say we will. That being said most delivery services are not guaranteeing delivery dates at this time (see below).
Due to the COVID outbreak, and during major gift giving holidays there has been and will be some disruption of delivery services. Please check with the delivery service you choose to transport your package for any notices if delivery time is critical. 
100% Satisfaction Guaranteed
We stand behind every product we sell. If you are not satisfied with your purchase or have a problem with your item, just send us an email within 40 days of purchase and we will email you a prepaid return label. All you will need are your ExtremeMeters.com order number and we will email the return label within 24 hours to the email address used when placing the order.
ExtremeMeters.com guarantee doesn't cover ordinary wear and tear or damage caused by improper use or accidents.
If your item has a manufacturing defect in its materials or workmanship (extremely rare), you can return it to us at any time. If sent within 45 days, we will replace or refund. If after 45 days and up to 5 years, it will become a warranty issue.
Once the item(s) are returned to us, it usually takes 24 hours to process refunds.
We do not ship on the following holidays observed in the USA.
New Year's Day
Memorial Day
Independence Day
Labor Day
Thanksgiving Day
Christmas Day
Returns:
Submit a return request:
Within 45 days of your items ship date, click the profile icon in the store's navigation, log in and then request a return.
Here is how:
Log in to your account: In the

 

Email

 

field, enter your email address, and then click

 

Continue.
In your email account, open the email sent from our store and copy the six-digit verification code included in the email.
Go back to the online store, and then enter a six-digit verification code.
Click the order that you want to submit the return for.
If your order has more than one item, then select the items that you want to return.
Select a return reason and add a note for the store.
Click

 

Request return. If your return request is approved and requires shipping, then you receive an email with shipping instructions and a return shipping label. After the product is returned, you receive a refund.
Choosing a selection results in a full page refresh.