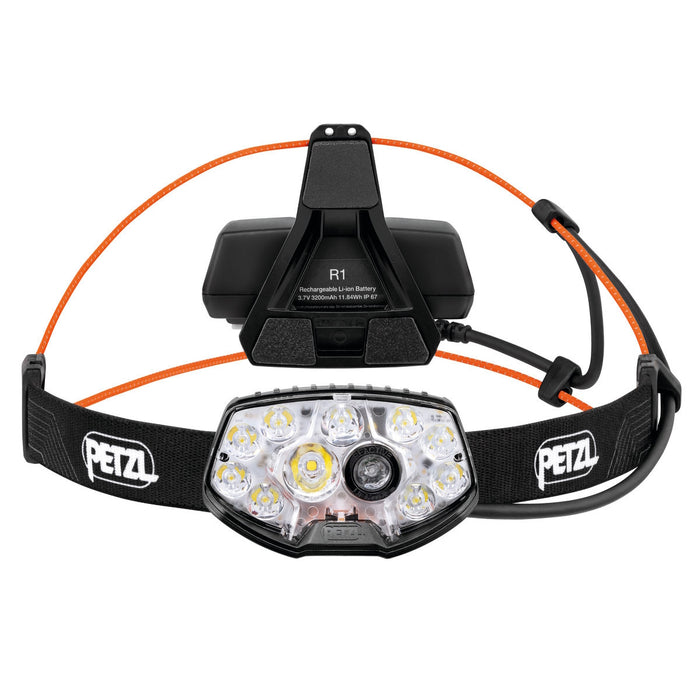 PETZL NAO RL Rechargeable Headlamp | 1500 LM
Original price
$169.95 USD
-
Original price
$169.95 USD
$169.95 USD
-
$169.95 USD
Current price
$169.95 USD
Free Delivery in the USA. Ships within 24 hours. Ships Worldwide.
Shipping / Returns / Taxes:

All items ship for free in the USA. Spend $250 USD for free worldwide shipping! Shipping rates and services are available on the cart page. Estimated delivery dates will be displayed during checkout. 

International orders may be subject to customs fees / taxes / duties and additional delivery fees prior to or at time of delivery. Please check with your country's customs office to determine if you are responsible for paying these fees.

State Sales Tax (USA): We collect sales tax on shipments to Pennsylvania customers only.

We offer a 45 day no-hassle return policy. Free returns are available in the USA only.
This ergonomic, ultra-powerful rechargeable headlamp includes REACTIVE LIGHTING® technology and boasts a bright intensity of 1500 lumens.
The NAO® RL rechargeable headlamp is a renowned go-to selection for trails and ultra-running. Delivering 1500 lumens of brightness while weighing just 145 grams, it is comfortably balanced and its adjustable headband keeps excellent support during long and strenuous races. Boasting REACTIVE LIGHTING® technology, the headlamp's brightness dynamically adjusts to surrounding illumination, reducing manual operations to maximize burn time. Additionally, the red lighting at the back ensures visibility while running at night.
Features:
Ultra bright and lightweight: 1500 lumens for a weight of only 145 g
- Lighting for movement automatically adapts to ambient light:
- Wide, uniform beam so you can comfortably see up-close or at your feet
- Mixed beam (wide and focused) allows for proximity and distance vision for movement
- Three white lighting levels: MAX BURN TIME, STANDARD (better power/burn time balance), and MAX POWER
- Longer burn time, greater visual comfort, and less manual operation with REACTIVE LIGHTING® mode, which allows the light sensor to automatically adjust brightness and beam pattern, optimizing battery usage
- Minimum burn time of 5 hours in REACTIVE LIGHTING® mode (STANDARD level), built to power through long activities like trail running and ultra-running
- Red lighting, continuous or strobe, at the rear of the headlamp, and a separate button to quickly turn it on or off
Ergonomic:
The battery pack is in the rear to distribute the weight of the headlamp over the entire head, making it balanced and comfortable to wear
Thin and flexible front plate, to better adapt to different head shapes
Quick and easy rear adjustment
Additional top strap for optimal support
Lithium-Ion 3200 mAh battery, rechargeable with a type C USB port
Carry a spare battery for long distance trail runs, or simply to switch out the battery when it dies (R1 battery available as an accessory)
Battery charge indicator with five-level gauge for precise monitoring of the battery charge level
Rechargeable R1 battery can be used as a spare battery to charge other devices, such as phones or watches
LOCK function to avoid accidentally turning on the lamp during transit or storage, or to lock lighting settings during your activity
Reflective headband to remain visible at night
Storage pouch allows you to turn the headlamp into a lantern in STANDARD mode, or carry an additional battery