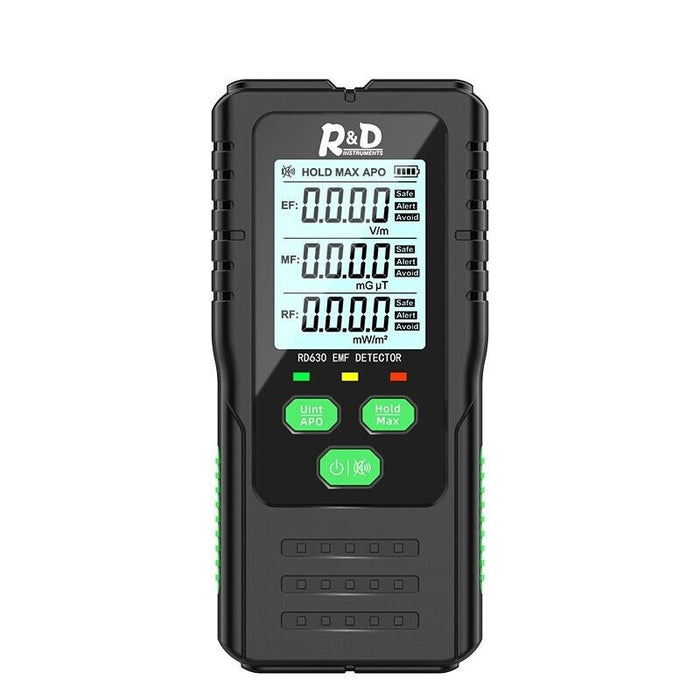 R&D 3 in 1 EMF Meter, EF, MF, RF
Original price
$49.00 USD
-
Original price
$49.00 USD
Free Delivery in the USA. Ships within 24 hours. Ships Worldwide.
Availability:
Only 2 left!
Shipping / Returns / Taxes:

All items ship for free in the USA. Spend $250 USD for free worldwide shipping! Shipping rates and services are available on the cart page. Estimated delivery dates will be displayed during checkout. 

International orders may be subject to customs fees / taxes / duties and additional delivery fees prior to or at time of delivery. Please check with your country's customs office to determine if you are responsible for paying these fees.

State Sales Tax (USA): We collect sales tax on shipments to Pennsylvania customers only.

We offer a 45 day no-hassle return policy. Free returns are available in the USA only.
Features:
Boasting a three-in-one combination of an electric field (EF), magnetic field (MF), and radio frequency field (RF) meter, the RD630 EMF Meter carries a built-in electromagnetic radiation sensor which, after processing data via its micro-control chip, conveniently displays the radiation value onto its LCD screen. Using the meter's readings, you can effectively create a suitable plan of action regarding the electromagnetic radiation detected.
APPLICATIONS:
This sophisticated device is specially designed to measure electromagnetic radiation in professional or residential settings, from the workplace to the home. It can be used to test various electronic devices, such as routers, cell towers, Bluetooth technology, television and radio equipment, computers, microwaves, refrigerators, printers and ghost hunting tools.
Includes: 
Requires:
(1) 9 Volt Battery (not included)