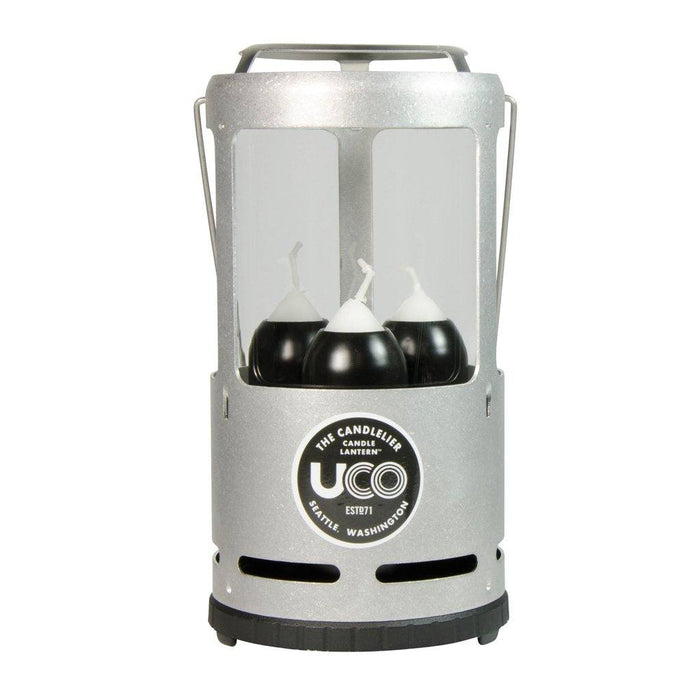 UCO 3 Candle Candelier Lantern - ALUMINUM
Original price
$39.99 USD
-
Original price
$39.99 USD
Availability:
Only 1 left!
Shipping / Returns / Taxes:

All items ship for free in the USA. Spend $250 USD for free worldwide shipping! Shipping rates and services are available on the cart page. Estimated delivery dates will be displayed during checkout. 

International orders may be subject to customs fees / taxes / duties and additional delivery fees prior to or at time of delivery. Please check with your country's customs office to determine if you are responsible for paying these fees.

State Sales Tax (USA): We collect sales tax on shipments to Pennsylvania customers only.

We offer a 45 day no-hassle return policy. Free returns are available in the USA only.
Need more lumens? Amp up the brightness and fend off chill with the UCO Candlelier Candle Lantern.
Sporting three 9-hour candles, this brilliant source of heat and light is perfect for large groups of campers and for home and emergency use. Brighten up your next family picnic plus keep your coffee hot, too. Just place your mug or cooking pot on the heat shield and—voila! The Candlelier cleverly heats small amounts of water or food while providing a warm, ambient glow to your campsite or porch.
FEATURES
Produces 5000 BTU's of heat. (must be used in a safe location away from flammable  surfaces)
Heats small amounts of water or food on heat shield.
Lightweight, durable aluminum construction.
Burns long-lasting UCO 9-hour candle; burn 1,2, or all 3 candles depending on your lighting needs.
Glass chimney and 3 spring-loaded candle tubes with viewing slots.
Carrying handle and twist-lock base.
Provides ample light, warms surroundings, and helps remove condensation.
PRODUCT SPECIFICATIONS
Dimensions: 8" high x 4" diameter (20 cm x 10 cm)
Weight (w/ 3 candle): 18.0 oz. (510 g)
Candles: UCO 9-hour or citronella candles, or 12-hour beeswax candles
Heat: 5000 BTUS