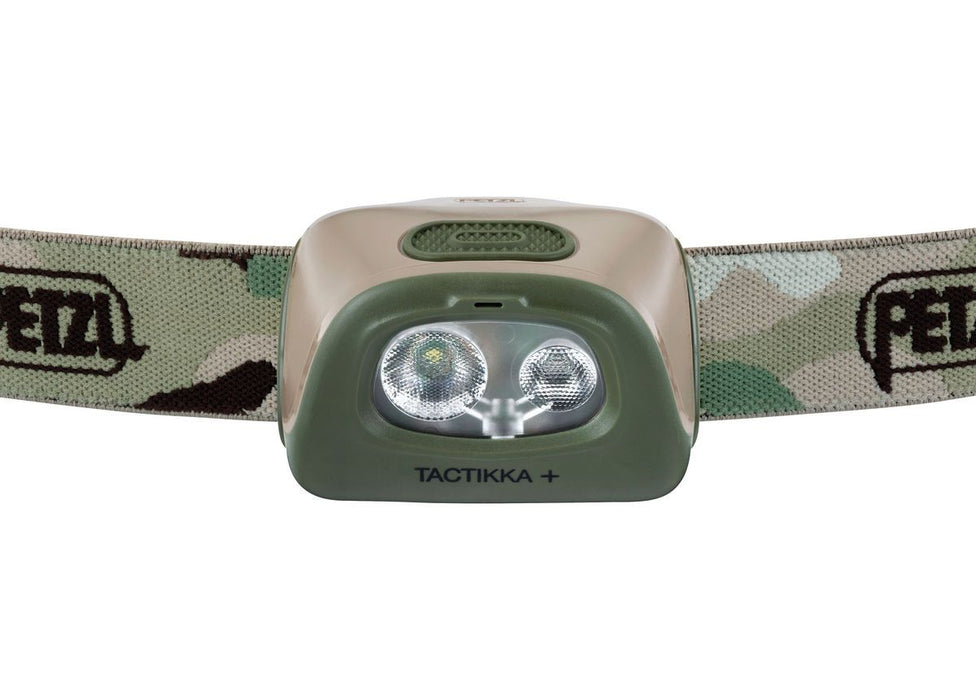 PETZL TACTIKKA + Headlamp | 350 LM
Original price
$49.95 USD
-
Original price
$49.95 USD
Free Delivery in the USA. Ships within 24 hours. Ships Worldwide
Availability:
Out of stock
Availability:
Only 3 left!
Availability:
Only 4 left!
Warranty:

3 year manufacturers warranty.
Shipping / Returns / Taxes:

All items ship for free in the USA. Spend $250 USD for free worldwide shipping! Shipping rates and services are available on the cart page. Estimated delivery dates will be displayed during checkout. 

International orders may be subject to customs fees / taxes / duties and additional delivery fees prior to or at time of delivery. Please check with your country's customs office to determine if you are responsible for paying these fees.

State Sales Tax (USA): We collect sales tax on shipments to Pennsylvania customers only.

We offer a 45 day no-hassle return policy. Free returns are available in the USA only.
Compact and powerful headlamp, ideal for hunting and fishing. White or red lighting to preserve night vision and ensure stealth. 350 lumens
Designed for activities where stealth is key (hunting, fishing, nature watching...), the TACTIKKA + headlamp offers powerful 350-lumen brightness. It has a mixed beam for proximity and distance vision during movement. It also has red lighting to preserve night vision and ensure stealth. TACTIKKA + comes with 3 standard batteries and is also compatible with the CORE rechargeable battery, thanks to the HYBRID CONCEPT design.
Features:
Lightweight, compact and bright:
- 350 lumens at 85 g
- three white lighting levels: proximity, movement and distance
- red lighting preserves night vision and ensures stealth
Simple to use and practical:
- single button for quick and easy selection of brightness or light color
- easy to put on via quick-release buckle on the headband
- detachable, washable headband
- HYBRID CONCEPT design: TACTIKKA + comes with three standard batteries and is also compatible with the CORE rechargeable battery
Available in three colors, depending on use
Specifications:
Brightness: 350 lumens (ANSI/PLATO FL 1)
Weight: 85 g
Beam pattern: mixed
Energy: Three AAA/LR03 batteries (included) or CORE rechargeable battery (available as accessory)
Battery compatibility: alkaline, lithium or Ni-MH rechargeable
Certification(s): CE
Watertightness: IPX4 (weather-resistant)
SKUs
| SKUs | E089EA00 | E089EA01 | E089EA02 |
| --- | --- | --- | --- |
| Color(s) | black | camo | desert |
| Guarantee | 5 years | 5 years | 5 years |
| Packing | 1 | 1 | 1 |

Performance
Lighting performance as defined by the ANSI/PLATO FL 1 protocol
Lighting color
Lighting levels
Brightness
Distance
Burn time
Reserve
white
MAX BURN TIME
6 lm
10 m
160 h
-
STANDARD
100 lm
45 m
12 h
30 h
MAX POWER
350 lm
90 m
2 h
60 h
red
proximity
2 lm
5 m
60 h
-
strobe
visible at 700 m for 400 h