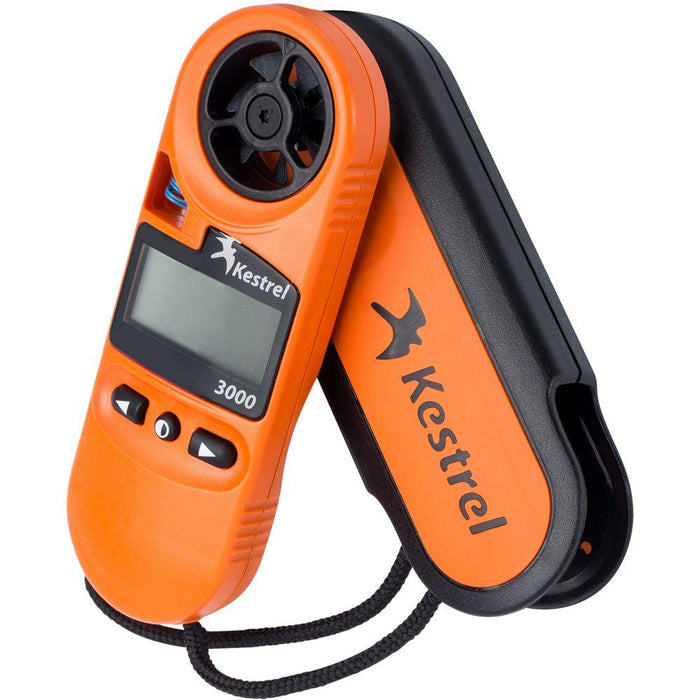 Kestrel 3000HS Pocket Heat Stress Meter
Original price
$199.00 USD
Original price
$199.00 USD
-
Original price
$199.00 USD
Original price
$199.00 USD
Current price
$159.00 USD
$159.00 USD
-
$159.00 USD
Current price
$159.00 USD
Free Delivery in the USA. Ships within 24 hours. Ships Worldwide.
Measures:
Wind Speed
Current Wind Speed
Average Wind Speed
Maximum Wind Gust
Temperature
Relative Humidity
Heat Stress Index
Wind Chill
Dew Point Temperature
Includes:

(1) CR2032 Lithium Battery
Instructions
Lanyard
Certificate Of Conformity (Spec Sheet)
Protective Cover - Hard Slip-on
Copy of Kestrel Heat Index Reference Guide
Downloads / Specifications:
Warranty:

5 year manufacturers warranty.
Shipping / Returns / Taxes:

All items ship for free in the USA. Spend $250 USD for free worldwide shipping! Shipping rates and services are available on the cart page. Estimated delivery dates will be displayed during checkout.

International orders may be subject to customs fees / taxes / duties and additional delivery fees prior to or at time of delivery. Please check with your country's customs office to determine if you are responsible for paying these fees.

State Sales Tax (USA): We collect sales tax on shipments to Pennsylvania customers only.

We offer a 45 day no-hassle return policy. Free returns are available in the USA only.
The Kestrel 3000HS will give you accurate Heat Stress measurements, on-site and real-time
Our most popular Kestrel and the Preferred tool of the Wildland Firefighter. The Kestrel 3000 & 3000HS are the go-to tools for monitoring field conditions. You know you're working hard. Make sure you're staying safe. This multi-job tool isn't just for firefighters but is used by college and pro athletic trainers where heat stress is an important concern. As a bonus, the 3000HS comes with a copy of the Kestrel Heat Index Reference Guide. Like all of our Kestrel Instruments, they are made in the USA, extremely durable and backed by a full 5 year factory warranty. All Kestrel Instruments are waterproof, drop-proof and they float.
Multiple uses:
Highly recommended equipment for wildland firefighters whose lives literally depend on the accurate weather data their Kestrel 3000HS provides.
Real-time environmental monitoring keeps you from working past your limits.
From the accurate relative humidity readings, the Kestrel 3000 also calculates dewpoint and heat stress index —important information to know when working or playing outdoors in hot and humid conditions.
Used by NFL trainers to determine how frequently the athletes need to hydrate, and when the conditions are unhealthy for strenuous exercise.
Calculates wind chill. A useful measurement for monitoring athletic teams or workers in cold environments.
Very easy to use, excellent and accurate data, very handy measurements to have. Also very nice working with the company, easy to order and arrived very quickly! So glad I got one, weather measurements are way easier now!

Extreme Meters customer: Lily F.
Features:
Simple 3-Button Control
High Contrast, Sunlight Readable Monochrome LCD Display
Backlight (Blue white)
Temperature Sensor (Patented External Isolated)
CR2032 Coin Cell Battery (Average Life 300 Hours)
Data Hold Function
Drop-Tested to MIL-STD-810G
Waterproof to IP67 (3'/1M for 30 minutes)
Kestrel Certificate of Conformity
Neck Lanyard
Patented Impeller and Sensor Technology
Slip-On Protective Cover
User-Replaceable Battery

Waterproof & Floats



Designed and built in the USA
Copy of Kestrel Heat Index Reference Guide
Physical Specifications:
Dimensions: 4.8 x 1.7 x 0.7 in. / 122 x 42 x 18 mm
Weight: 2.3 Ounces / 65 Grams