The 3000HS will give you on-site, real-time heat stress data.
Regular price
$159.00 USD
Regular price
$199.00 USD
Sale price
$159.00 USD
Unit price
per
-21%
Couldn't load pickup availability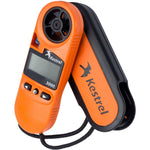 Regular price
$159.00 USD
Regular price
$199.00 USD
Sale price
$159.00 USD
Measurement

Wind Speed
Current Wind Speed
Average Wind Speed
Maximum Wind Gust
Temperature
Relative Humidity
Heat Stress Index
Wind Chill
Dew Point Temperature

Includes

(1) CR2032 Lithium Battery
Instructions
Lanyard
Certificate Of Conformity (Spec Sheet)
Protective Cover - Hard Slip-on
Copy of Kestrel Heat Index Reference Guide

Warranty

Country of origin
The Kestrel 3000HS will give you accurate Heat Stress measurements, on-site and real-time
Our most popular Kestrel and the Preferred tool of the Wildland Firefighter. The Kestrel 3000 & 3000HS are the go-to tools for monitoring field conditions. You know you're working hard. Make sure you're staying safe. This multi-job tool isn't just for firefighters but is used by college and pro athletic trainers where heat stress is an important concern. As a bonus, the 3000HS comes with a copy of the Kestrel Heat Index Reference Guide. Like all of our Kestrel Instruments, they are made in the USA, extremely durable and backed by a full 5 year factory warranty. All Kestrel Instruments are waterproof, drop-proof and they float.
Multiple uses:
Highly recommended equipment for wildland firefighters whose lives literally depend on the accurate weather data their Kestrel 3000HS provides.
Real-time environmental monitoring keeps you from working past your limits.
From the accurate relative humidity readings, the Kestrel 3000 also calculates dewpoint and heat stress index —important information to know when working or playing outdoors in hot and humid conditions.
Used by NFL trainers to determine how frequently the athletes need to hydrate, and when the conditions are unhealthy for strenuous exercise.
Calculates wind chill. A useful measurement for monitoring athletic teams or workers in cold environments.
Very easy to use, excellent and accurate data, very handy measurements to have. Also very nice working with the company, easy to order and arrived very quickly! So glad I got one, weather measurements are way easier now!

Extreme Meters customer: Lily F.
Features:
Simple 3-Button Control
High Contrast, Sunlight Readable Monochrome LCD Display
Backlight (Blue white)
Temperature Sensor (Patented External Isolated)
CR2032 Coin Cell Battery (Average Life 300 Hours)
Data Hold Function
Drop-Tested to MIL-STD-810G
Waterproof to IP67 (3'/1M for 30 minutes)
Kestrel Certificate of Conformity
Neck Lanyard
Patented Impeller and Sensor Technology
Slip-On Protective Cover
User-Replaceable Battery

Waterproof & Floats



Designed and built in the USA
Copy of Kestrel Heat Index Reference Guide
Physical Specifications:
Dimensions: 4.8 x 1.7 x 0.7 in. / 122 x 42 x 18 mm
Weight: 2.3 Ounces / 65 Grams
Sensor Specifications
Wind Speed

Units of Measure:
mph | kt | B | m/s | ft/min / km/h 
Specification Range:

0.6 to 40.0 m/s
118 to 7,874 ft/min
2.2 to 144.0 km/h
1.3 to 89.5 mph
1.2 to 77.8 knots
0 to 12 B*
2-131.2 F/S*

Operational Range:

0.6 to 60.0 m/s
118 to 11,811 ft/min
2.2 to 216.0 km/h
1.3 to 134.2 mph
1.2 to 116.6 knots
0 to 12 B*
2-196.9 F/S*

Resolution:

0.1 m/s
1 ft/min
0.1 km/h
0.1 mph
0.1 knots
1 B

Accuracy (+/-):

Larger of 3% of reading, least significant digit or 20 ft/min
Notes:
1 inch|25 mm diameter impeller with precision axle and low-friction Zytel® bearings. Startup speed stated as lower limit, readings may be taken down to 0.4 m/s | 79 ft/min | 1.5 km/h | .9 mph | .8 kt after impeller startup. Off-axis accuracy -1% @ 5º off-axis; -2% @ 10º; -3% @ 15º. Calibration drift < 1% after 100 hours use at 16 MPH | 7 m/s.

 

Replacement impeller (PN-0801)

 

field installs without tools (US Patent 5,783,753). Wind speed calibration and testing should be done with triangle on impeller located at the top front face of the Kestrel. *F/S only in Ballistics units. Beaufort not available in Ballistics units.

Ambient Temperature:

Units of Measure:

Fahrenheit, Celsius

Specification Range:

-20.0 to 158.0 °F
-29.0 to 70.0 °C

Operational Range:

14.0.0 to 131.0 °F
-10.0 to 55.0 °C

Resolution:

Accuracy (+/-):

Notes:

Hermetically sealed, precision thermistor mounted externally and thermally isolated (US Patent 5,939,645) for rapid response. Airflow of 2.2 mph|1 m/s or greater provides fastest response and reduction of insolation effect. Calibration drift negligible. Thermistor may also be used to measure temperature of water or snow by submerging thermistor portion into material -- remove impeller prior to taking submerged measurements and ensure humidity sensor membrane is free of liquid water prior to taking humidity-based measurements after submersion.

Relative Humidity

Units of Measure:

%

Specification Range:

5 to 95% 25°C non-condensing

Operational Range:

0 to 100% 

Resolution:

0.1 %RH

Accuracy (+/-):

3%RH

Notes:

To achieve stated accuracy, unit must be permitted to equilibrate to external temperature when exposed to large, rapid temperature changes and be kept out of direct sunlight. Calibration drift is typically less than ±0.25% per year.
Calculated Measurements
Wind Chill

A

ccuracy

 

(+/-):

Resolution:
Sensors employed:

Dew Point

A

ccuracy

 

(+/-):

3.4 °F
1.9 °C
15-95% RH.
Refer to Range
for Temperature Sensor

Resolution:
Sensors employed:

Temperature
Relative Humidity

Heat Index

A

ccuracy

 

(+/-):

Resolution:
Sensors employed:

Temperature
Relative Humidity
Downloads:
USA:
Sales Tax:
We collect sales tax on orders shipping to Pennsylvania only.
Free Ground Shipping: 
Enjoy free shipping within the USA (1-4 business days ETA). Most orders ship the same day if ordered by 12:00PM ET.
Free 2 Day Delivery (USA Only):
Spend $250 and you have the option to select free 2 day delivery. Free 2 Day delivery is only available in the continental USA. We mostly use UPS for this service so if your address is a PO box or anywhere UPS does not deliver to we cannot guarantee 2 day delivery.
Other Shipping Services
We offer discounted expedited shipping such as Next Day Air, 2nd Day Air and more. All shipping services, times and rates are displayed during checkout.
Global (worldwide) Shipping
We offer the following international shipping services: (UPS, USPS & DHL). Not all shipping services are offered to every country. If they are offered to your country, it will be displayed in your cart and checkout.
We ship worldwide with few exceptions. Our discounted shipping rates and services are displayed in your cart and during checkout.
Tracking: All shipments include a tracking number and shipment progress updates either by email or text updates.
All International shipments are insured.
In order to protect our customers, we do insure all international shipments against loss or damage. You can rest assured that if something happens to your shipment during its journey, we have you covered. It is extremely rare that we have a lost or damage shipment. We have been shipping worldwide for over 15 years. All paperwork is professionally produced and all packages are secure. We are unable to offer insurance to the Ukraine at this time due to the war.
Recipients of international shipments may be subject to import taxes, fees, and customs duties (hereafter, "Import Fees"), levied by the customs office and or delivery service of your shipping destination. Import Fees vary according to the customs regulations of the destination country.You may be notified by the delivery service to pay these fees (if any are due), either by email or phone. It is important to respond quickly.
We are always available to assist our customers when needed!
Delivery Guarantees:
We do our best and pride ourselves on getting your order to you in a timely fasion which means we ship out when we say we will. That being said most delivery services are not guaranteeing delivery dates at this time (see below).
Due to the COVID outbreak, and during major gift giving holidays there has been and will be some disruption of delivery services. Please check with the delivery service you choose to transport your package for any notices if delivery time is critical. 
100% Satisfaction Guaranteed
We stand behind every product we sell. If you are not satisfied with your purchase or have a problem with your item, just send us an email within 40 days of purchase and we will email you a prepaid return label. All you will need are your ExtremeMeters.com order number and we will email the return label within 24 hours to the email address used when placing the order.
ExtremeMeters.com guarantee doesn't cover ordinary wear and tear or damage caused by improper use or accidents.
If your item has a manufacturing defect in its materials or workmanship (extremely rare), you can return it to us at any time. If sent within 45 days, we will replace or refund. If after 45 days and up to 5 years, it will become a warranty issue.
Once the item(s) are returned to us, it usually takes 24 hours to process refunds.
We do not ship on the following holidays observed in the USA.
New Year's Day
Memorial Day
Independence Day
Labor Day
Thanksgiving Day
Christmas Day
Returns:
Submit a return request:
Within 45 days of your items ship date, click the profile icon in the store's navigation, log in and then request a return.
Here is how:
Log in to your account: In the

 

Email

 

field, enter your email address, and then click

 

Continue.
In your email account, open the email sent from our store and copy the six-digit verification code included in the email.
Go back to the online store, and then enter a six-digit verification code.
Click the order that you want to submit the return for.
If your order has more than one item, then select the items that you want to return.
Select a return reason and add a note for the store.
Click

 

Request return. If your return request is approved and requires shipping, then you receive an email with shipping instructions and a return shipping label. After the product is returned, you receive a refund.
Choosing a selection results in a full page refresh.